December 29, 2011 -
Barry Dorey
The top prospects playing in the Alamo Bowl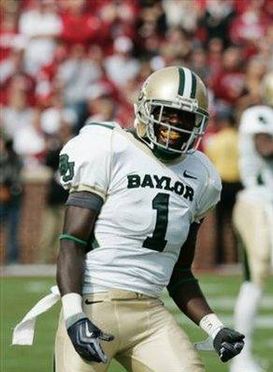 ICONWright is a big play threat vertically.
1. QB Robert Griffin III: Baylor (6-2, 220)
A "plus" athlete who can really throw the football, is a student of the game and is only starting to scratch the surface of his potential. Has as much upside as any prospect in the draft and looks like a future franchise signal caller.

2. WR Kendall Wright: Baylor (5-10, 190)
In the same mold as a number of Pittsburgh Steelers receivers (Mike Wallace, Emmanuel Sanders) and can be effective both inside and out making plays down the field at the next level.

3. DT Alameda Ta'amu: Washington (6-3, 337)
This is the kind of guy who has the ability to anchor the middle of an NFL defense in either a 3-4 or 4-3 front. Needs to do a better job finding the football, but overall he looks like a starter you can win with in the NFL.

4. OG Senio Kelemete: Washington (6-4, 301)
A gifted athlete with a strong base, strong hands and a passion for the game. Needs to clean up his footwork and his body type makes me think he's more of a guard only prospect. But has the skill set to fly up draft boards and if he improves his technique could be one of the first guards selected in 2012.

5. Jermaine Kearse: Washington (6-2, 208)
Looks like a guy who should be able to dominate at the college level. However, he seems a bit disinterested at times, isn't as physical in any area of the game as his frame would indicate and isn't a guy I would trust on the outside in the NFL to make plays for me.
Follow me on twitter: @WesBunting
Check out the NFP Draft page here...