December 29, 2011 -
Barry Dorey
The top prospects playing in the Champs Sports Bowl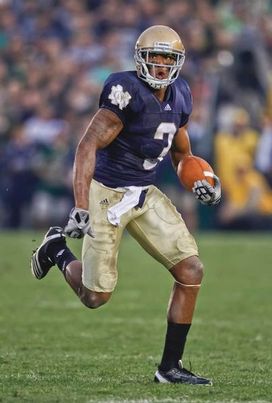 ICONFloyd looks like one of the top prospects in the class.
1. WR Michael Floyd: Notre Dame (6-3 224)
Didn't seem quite as dynamic as a receiver when he bulked up in 2010. However, has looked sudden, explosive and showcased the ability to separate quickly and create after the catch as a senior. Is not only one of the draft's top receiving prospects, but one of the top prospects overall.

2. OT Zebrie Sanders: Florida State (6-6, 307)
A natural athlete who can bend, is coordinated and patient into contact. Possesses a good amount of upside as well and looks like a starter on either side of the O-line.

3. SS Harrison Smith: Notre Dame (6-2, 214)
Isn't a guy you want to trust to run with receivers down the field. However, because of his solid natural range and instincts, I can see him getting over the top and making plays in a center field type role as an NFL strong safety.

4. CB Robert Blanton: Notre Dame (6-1, 200)
Is a nice sized kid with some press man skills and upside. Is a bit scheme limited, but he's a good size/speed athlete who can re-route off the ball. Has some starting upside, but as of now looks like a draftable reserve who needs to play on the outside.

5. CB Mike Harris: Florida State (5-11, 195)
Looks like a physical slot guy to me who can play in both man and zone concepts, and will tackle the football.
Follow me on twitter: @WesBunting
Check out the NFP Draft Page here...