May 16, 2012 -
National Football Post
The upside of Washington QB Keith Price
The Breakdown…

QB Keith Price: Washington (6-1, 195)

What I like…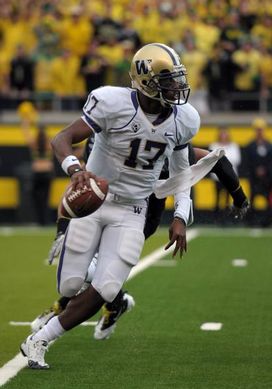 ICONPrice can hurt defenses with his arm and legs.
- Is a good athlete with the ability to buy time in the pocket and keep plays alive with his feet.
- Showcases quick footwork, has the ability to re-set his feet when trying to align his body with secondary targets and stay in balance.
- Possesses a good feel in the pocket, keeps his eyes down the field, feels pressure around him and can subtly slide his feet in order to buy time.
- Is a gifted athlete when asked to take off, has the ability to make a man miss and accelerates well into the open field. Can gain yards by the chunk with his legs.
- Looks comfortable throwing on the move. Generates some torque from his lower half and can throw from a number of angles when his feet aren't set.
- Showcases natural balance and foot quickness getting away from the line of scrimmage when under center.
- Works off the play action game well, settles his feet quickly and displays natural touch down the field.
- Keeps a good base under him when he sets and steps into throws with good knee bend and balance.
- Possesses the ability to spin the football accurately in the underneath pass game when his feet are under him.
- Is effective with his accuracy and touch when he's set in the pocket and knows where to go with the football in the short and vertical pass game.
- Can create with his arm when plays breakdown. Keeps his eyes down the field, allows receivers to uncover and showcases "plus" touch vertically on the move.
- Broke the Washington single season touchdown passing record in his first year as a starter with 33.
- Was extremely productive as a first year starter and was a guy who his teammates seemed to rally around.

What I didn't like…

- Lacks ideal height and overall girth for the position. Will struggle to find throwing lanes at times and looks a bit lean at this stage.
- His delivery is inconsistent. When trying to put some touch on the ball vertically the ball comes out higher over his ear. When trying to put throws on a line he will drop his elbow down and lower his throwing angle.
- There is some wasted motion in his release as he has a tendency to let his arm get away from his body in order to wind up and generate some additional velocity.
- Doesn't have a great arm. Looks average at best.
- When he tries to put a little extra on throws outside the numbers passes tend to sky on him and he will over throw receivers.
- Still learning how to quickly recognize coverages, works predominately only one side of the field.
- Makes a lot of his decisions pre-snap and will force the football down the field into coverage.
- Gets fidgety when asked to hang in the pocket and try to find secondary receivers.
- Gets happy feet and ends up bouncing on his toes too often into passes with no/little foundation under him, which causes his inaccuracies in the short/intermediate pass game.

The Breakdown…

I like Price as an athlete at this stage. He can buy time in the pocket, keep his eye level down the field and gut a defense over the top because of his ability to create second lives. Plus, he throws well on the move and can make plays with his legs.

However, he needs to improve his footwork in the pocket and become a bit more consistent with his throwing angle. Both improvements should help his overall accuracy and velocity in the pass game.

As of now, he looks more like a later round/developmental type option. But, with the potential of two more years of seasoning, the guy has the talent to really improve his draft stock, as he's far from a finished product. Price has the kind of coaching staff around him to improve drastically over the next two seasons and he's one of those talents that could be poised to really shoot up draft boards with a pair of big years.