January 12, 2012 -
National Football Post
The Vontaze Burfict Debate
Breaking down the game and assigning a great to Arizona State ILB Vontaze Burfict …

LB Vontaze Burfict: Arizona State (6-3, 250)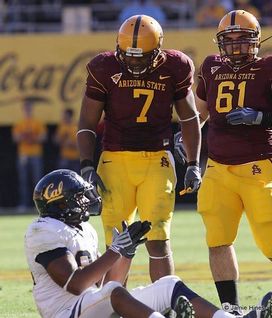 ICONPart of Burfict's game is to intimidate.
A thick, compact linebacker with a strong frame and natural girth through both his upper and lower half. Exhibits a natural explosion to his game when asked to attack downhill and close on the run. Showcases a good first step, keeps his pad level down as a tackler and can really snap through the hips on contact. Is a violent tackler with good length for his size and has the balance and quickness to range off his frame in space and tackle consistently both in the hole and in the open field. Showcases the power and snap from his upper body to take on blocks on contact. When he stays low and extends his arms can be violent on contact when looking to shed. However, when he's not into the game mentally gets upright and can be overwhelmed and ridden out of the play. Instincts are a bit inconsistent. Will under run plays at times trying to create in the backfield, showcasing the ability to find the ball inside, read his run keys and play off opposing linemen's proper shoulder. However, at times just plays out of control and looks to be guessing which gap to shoot as opposed to reading his keys inside taking himself out of big plays.
Exhibits natural bend and pretty impressive fluidity for his size when asked to get out of his breaks. Can bend at the knees, but likes to pop upright in his drop and get a bit narrow in his base. This takes away initially from his burst and quickness changing directions in the pass game. However, he's fluid when asked to open up his hips and redirect. And once he gets his feet under him showcases impressive closing burst and range into contact. Can intimidate in the secondary and will create collisions on contact. Nevertheless, lacks a great feel in zone coverage. Doesn't get many proactive jumps on the football. Is a bit slow to recognize receivers crossing his face, doesn't get many early jumps on the football and is more of a reactive zone player. Might be best suited to play outside at the next level where he can have more simplified reads. Exhibits some savvy as a blitzer, times up the snap count well and can drop his pad level when trying to fight under blockers. However, isn't real sudden when trying to slip.
Has some on the field character concerns. Plays the game with a real passion and exhibits impressive fire. However, gets out of control at times and really struggles to handle his emotions. Takes some bad penalties on personal fouls and lets the penalties effect his performance as well. Seems to lose interest at times when things aren't going his way and it takes the edge off his game.
Impression: A talent with natural pop on contact, can hold the point of attack and for his size exhibits "plus" range and fluidity. Isn't a guy who I could trust as a starting 43 mike as he needs to stay in control of his emotions and make the defensive calls. Needs to be put in a good locker room with a vet next to him to help him learn to be a professional. If he can overcome his struggles on the field emotionally, he's got the talent to be a Pro Bowl caliber linebacker.
Follow me on twitter: @WesBunting
Check out the NFP Draft Page here...