November 15, 2012 -
National Football Post
This Week's Intriguing NFL Prospect Match-ups
Arkansas –vs- Mississippi State
Arkansas WR Cobi Hamilton (Senior) against Mississippi State CB Jonathan Banks (Senior)
Rare is it when a receiver cornerback match-up can be pointed at so clearly, but with Hamilton having 50+ more catches than the next receiver at Arkansas you can be sure Mississippi State is going to lock Banks up on him all game. At 6'2 and 210 pounds Hamilton has the size that NFL teams love and combined with deceptive acceleration, good playing speed and hands he has the tools to be a productive big receiver in the NFL. Going against Banks will provide Hamilton the chance to prove he can beat the tall, athletic cornerbacks that NFL teams will try to cover him with. Banks is a long, linear cornerback at 6'2, but is thin and lacks good strength. So while Banks can easily flip hips to stay with Hamilton off the line, this match-up will give him chance to prove he can handle receivers who try to push him around. NFL scouts have told us they agree with our assessment that Banks is very similar athletically to Jimmy Smith, so he definitely has first round athleticism, but needs to prove he can handle the physical side of the game if he wants to assure himself of being drafted that highly. Additionally, if Hamilton shows he can easily get separation from Banks through quickness and burst as opposed to just pushing off he could put himself in position to be a high second round pick.
Ohio State –vs- Wisconsin
Wisconsin OT Ricky Wagner (Senior) and Center Travis Frederick (Junior) against
Ohio State DE John Simon (Senior) and Defensive Tackle Johnathan Hankins (Junior)
Although Ricky Wagner is not the premier prospect that Joe Thomas was, he is very similar athletically to Gabe Carimi and faces a good challenge against Simon. While Simon lacks elite initial quickness, once moving he flashes ability to threaten the corner and uses hands well to keep pass blocker's hands off him. Simon consistently pressures quarterback and makes plays vs. the run because of his combination of under-rated athleticism, outstanding hand-use/technique and rare competitiveness and aggressiveness. In order to handle Simon, Wagner will need to pass block with base/leverage more consistently and use his hands more aggressively to "get a good fit" on Simon first. As the seniors, Wagner and Simon, battle on the edge, the interior battle between Frederick and Hankins will have a huge impact on the game. After a disappointing 2011 season playing guard, Frederick has played at a much higher level since making the move to center for this season. He is quick setting up to block, gets hands on man fast and can stay over feet in order to maintain block well. Frederick will face his biggest challenge of his career going against Hankins who is one of the best interior defensive linemen in the country and a potential top ten pick. Having cranked up his intensity and competitiveness in 2012, Hankins has gone from being a bit of a "tease" to a dominating interior force that consistently disrupts plays behind the line of scrimmage. With his size and NFL caliber playing strength Hankins has the tools to "jerk and toss" blockers and the explosive closing burst to finish plays behind the line. Frederick needs to play well vs. Hankins to be drafted in the first two rounds if he chooses to come out early for the 2013 NFL Draft.
USC –vs- UCLA
USC Safety T.J. McDonald (Senior) against UCLA TE Joseph Fauria (Senior)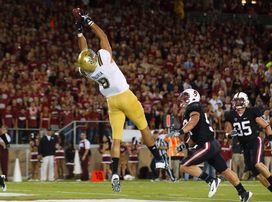 US PRESSWIREUCLA TE J. Fauria makes an excellent catch.

No doubt this match-up is not what the pundits on television will be discussing leading up to the game, but from a scouting perspective this is a matchup I think could affect both players' draft stock. As a big, strong safety, McDonald has the foot quickness, agility and speed that excite NFL teams. However, the issue is that he does not produce up to his talent level and is viewed as a "better athlete than football player" right now. Fauria is not a blazing, fast tight end, but he is a smooth athlete who knows how to get open, uses his body to shield defender and has the height and hands to make tough catches look easy. Fauria needs to prove he will be able to get open vs. the athletic safeties and linebackers he will face in the NFL and McDonald is definitely an NFL caliber athlete, even though his production has been that of a fourth/fifth rounder this season. He will provide McDonald with a good coverage challenge as McDonald must prove he can handle covering big, strong tight ends in order to overcome what has been a disappointing senior season.
Email Russ at Russelllande@yahoo.com and Follow Russ on Twitter @RUSSLANDE