November 22, 2012 -
National Football Post
This Week's Most Intriguing NFL Prospect Match-ups
LSU –vs- Arkansas
Arkansas QB Tyler Wilson (Senior) battles
LSU DE's Barkevious Mingo (Junior) and Sam Montgomery (Junior) and DT Bennie Logan (Junior)
Clearly Wilson will not be physically matching up with Mingo, Montgomery and Logan, but how he handles being pressured throughout the game will give insight into Wilson's ability to effectively make the jump to the NFL. An under-rated athlete with a quick release and a strong arm, Wilson has played like a top ten pick at times, but has struggled with accuracy and consistency throughout 2012. This is why he is viewed as a second to third round prospect right now. Forcing passes into small windows when pressured has led to defenders getting their hands on too many of his passes. While Mingo and Logan have not been the dominant players many expected entering the season, they both have continued to provide complimentary pressure opposite Sam Montgomery. Mingo is a tremendous natural athlete who flashes the initial quickness and speed to beat the OT around the corner when he pass rushes with leverage and aggressiveness. The issue is that Mingo plays upright and without leverage and aggressiveness too often, which allows offensive linemen to get ahold of and eliminate him from the play. Even with Mingo struggling through much of 2012, Montgomery has stepped up and played better than he did in 2011. Montgomery uses his long arms and excellent playing strength to easily drive the OT backwards into the pocket when he "bull rushes" and to anchor against run blocks. Montgomery's combination of size, strength, hand use and athleticism make him a likely top 20 pick as a 43 defensive end or an outside linebacker in a 34 scheme.
Virginia –vs- Virginia Tech
Virginia OT Uday Aboushi (Senior) against Virginia Tech DE James Gayle (Junior)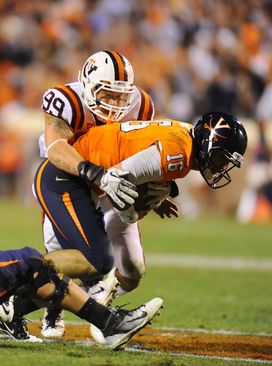 US PRESSWIREJames Gayle (#99) makes tackle against Virginia.

This game is not going to get much national attention, but the match-up between Aboushi and Gayle will be watched closely by NFL scouts. Regarded as a smooth and consistent blocker entering 2012, Aboushi has improved so much this season that he has risen up draft boards all around the league. He makes it look easy bending knees and pass blocking with good base/leverage, which combines with his athleticism so that he can change directions easily to adjust to quick secondary pass rush moves. Even more impressive has been Aboushi's ability to pull and lead block well on outside runs. He not only gets out into space quickly, but does an excellent job of staying over feet and maintaining blocks while on the move. A versatile defensive end who has excelled as a run defender and pass rusher, this match-up will be a great chance for Gayle to prove he can defeat a high end offensive tackle. Lacking the first step explosiveness off the ball and speed to threaten the corner as a speed rusher, Gayle will need to prove his smooth athleticism and playing strength combined with excellent technique / hand-use is good enough for him to defeat Aboushi at the point of contact. For the many things Aboushi does well, he will be challenged as an in-line run blocker because Gayle shines anchoring against and shedding run blocks to make tackles on running plays at him. Overall, this game provides both Gayle and Aboushi an opportunity to prove to NFL scouts that they can produce when battling an NFL caliber player.
Missouri –vs- Texas A&M
Missouri DT Sheldon Richardson (Redshirt Junior) against Texas A&M C Patrick Lewis (Senior)
When anyone talks about Texas A&M's best offensive linemen the discussion almost always begins with either Luke Joeckel or Jake Matthews, but center Patrick Lewis is in his fourth year starting on A&M's offensive line (He started at guard his first two seasons and then moved to center for his final two) and is an under-rated player. While Smith is not a big man at an estimated 6010 and 300 pounds, he has proven to be very effective in pass pro and on in-line run blocks when he sets up quickly to block, "gets a good fit" on man and is able to stay over feet to maintain block. However, going up against Richardson will likely be the biggest challenge of his career as Richardson has the rare, explosive athleticism and elite natural strength to dominate at the line of scrimmage. After missing last week's game due to a suspension for off-field behavior, you can be sure that Richardson is going to come into this game with a chip on his shoulder and I believe will likely play the best game of his college career. With the uncommon combination of explosive initial quickness, outstanding agility to change directions fast and shocking playing strength, Richardson has all the tools to be a dominating interior force in the NFL. Every NFL scout that I have spoken with assures me that Richardson will be a first round pick regardless of the suspension, so this game gives the often over-looked Lewis a chance to prove to NFL teams that he has what it takes to become a high end backup and potential starter.
Email Russ at Russelllande@yahoo.com and Follow Russ on Twitter @RUSSLANDE