November 26, 2012 -
National Football Post
This Week's Prospects On The Move
With most of the college football regular season finished and the conference championship games taking place this weekend, some players have the opportunity to put their best foot forward on the biggest stage to impress NFL scouts. While I have been grinding away the film all fall, I have been able to track down a number of scouts to get their thoughts on different players around the country. Below is a look at four players whose stock has been moving over the past few weeks based on my film evaluation and what I am hearing from NFL scouts.
Rising Players
Chris Harper Wide Receiver Kansas State Senior
6010 231 4.44 Potential 2nd / 3rd Round Pick
A star quarterback in high school who began his college career at Oregon, Harper has developed into one of Kansas State's best offensive weapons leading the Wildcats in receptions since the beginning of 2011. Despite lacking the statistics of many of the better known receivers, scouts have told us they have been impressed with his combination of size, playing strength, hands and playing speed. Still learning the nuances of the position, Harper was viewed as a likely fourth or fifth rounder at the beginning of the season, but everyone we have spoken to expects him to climb up draft boards when he shows off his athleticism in an All Star Game and at the Combine. Big receivers who can gain separation down the field and have the combination of strength and speed to make big plays running after the catch have tremendous value in today's pass first NFL, which is why Harper could end up being drafted in the high second round if he shines as expected this spring.
Lane Johnson Offensive Tackle Oklahoma Senior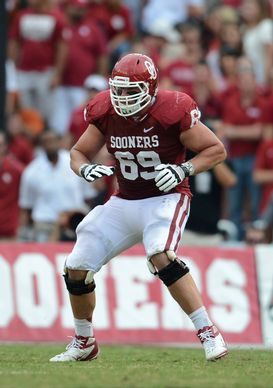 US PRESSWIREOklahoma OT Lane Johnson sets up to pass block against Texas.
6060 (Estimated) 305 (Estimated) 5.25 (Estimated) Potential 2nd Round Pick
Unlike Luke Joeckel, Jake Matthews and Taylor Lewan, who have received a ton of national publicity, Lane Johnson has flown under the media's radar throughout his college career, but you can be sure NFL scouts know all about him. An under-rated athlete with excellent height and long arms, Johnson is easily able to slide out to get to corner to cut-off and block explosive, edge rushers. Technically sound, Johnson does a good job of bending his knees and pass blocking with base, which allows him to slide and shuffle smoothly to stay on and maintain blocks easily. Not a physically dominant run blocker, his quickness making contact with defensive lineman, ability to stay over feet and consistency staying after block help him pin, seal and open holes on in-line run blocks. Although Johnson is not getting a lot of hype now, he reminds us a lot of former long-time starting left tackle of the Giants Luke Petitgout and could end up being a first or second round pick.
Falling Player
Micah Hyde Cornerback / Safety Iowa Senior
5116 190 4.60 (Estimated) Potential Priority Free Agent
A highly productive cornerback at Iowa, Hyde has been talked about as a potential high draft pick much of his career, but he is not as well thought of in NFL circles. More of a smooth and fluid athlete, Hyde has not displayed the "quick twitch" athleticism that NFL teams demand from cornerbacks. He does not transition and close quickly on passes and lacks the explosive closing burst to consistently get there in time to make a play on the ball. A number of scouts have told us that they feel Hyde is best suited athletically to move to free safety, but they are concerned that he is not a physical or consistent tackler to become a starter at the safety position. His experience playing cornerback will definitely help him as a safety as he would be able to come down and cover the slot receiver in three receiver alignments, so the defense would not have to change personnel. Hyde will have to make plays on special teams in order to win a roster spot in the NFL and will likely be a backup safety / cornerback and special teams player if he is going to last long in the NFL.
Email Russ at Russelllande@yahoo.com and Follow Russ on Twitter @RUSSLANDE