August 22, 2011 -
National Football Post
Three potential landing spots for Terrelle Pryor
A look at which teams might be most interested in drafting Ohio State's Terrelle Pryor during today's Supplemental draft.
Click here to read the NFP's Terrelle Pryor breakdown.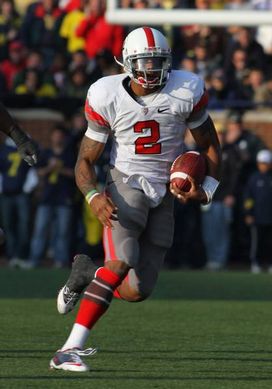 ICONPryor could be a fit in Oakland.
1. Oakland Raiders
It's no secret that owner Al Davis loves athletes that can run and Pryor certainly fits that bill. Add in the fact that the Raiders haven't had a legit signal caller leading their offense since Rich Gannon and that they are in desperate need of a franchise QB. Pryor is going to be a work in progress, but when you look at his athletic skill set/upside and figure he is only going to warrant a later round pick, he seems like the kind of guy the Raiders front office would certainly be willing to gamble on.
2. Washington Redskins
When looking at their QB situation, I have a hard time imagining that the Redskins coaching staff isn't at least a little intrigued by the idea of having Pryor take a year or two to develop before allowing him to run their boot action style offense. The guy would be a major threat outside the pocket, is a better thrower of the football than given credit for and the coaching staff in Washington might give Pryor the best chance at success in the NFL.
3. Cincinnati Bengals
I'm not saying the Bengals are ready to pull the plug on second round pick Andy Dalton, but the guy has been downright brutal during the pre-season and Cincinnati has never shied away from a big time talent with character concerns. Dalton still would be the future signal caller for the Bengals, but there isn't anything wrong with bringing in a little competition for him down the line, especially after the start he's gotten off to so far in the NFL.
Follow me on twitter: @WesBunting