September 02, 2010 -
National Football Post
Thursday night college primer
A breakdown of what NFL scouts will be looking for on opening night of the 2010 college football season.
Southern Miss vs. South Carolina
7:30 p.m. ET, ESPN
What to watch for…
South Carolina
• How does left tackle Jarriel King hold up on the edge? King has seen time at both guard and tackle over the past two seasons, but he really struggles to maintain his balance in space and can be easily rocked on contact when asked to anchor. Plus, he's a bit thin in the lower half and does have some medical concerns with his heart. However, he does possess NFL-type talent and it's just a case of seeing if the light ever goes on for this kid. Therefore, it will be interesting to see just where his footwork, balance and overall patience in pass protection is at in the opener because he has the athleticism to be effective in space.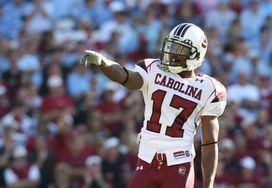 ICONCulliver will have his work cut out for him tonight.
• Defensive back Chris Culliver will be making the move from safety to cornerback this season and there is no doubt that at 6-0, 197 pounds he possesses the range and fluidity to cleanly redirect and close on the football. However, one thing that showed up on tape consistently over the past two years was his lack of ideal awareness and instincts in the deep half. Now, he did exhibit a nose for the ball last season in man coverage, but his ability to quickly diagnose his pass keys and find the throw will be key if he ever hopes to mature into anything more than a jack-of-all-trades, master-of-none type nickel back in the NFL.
• Will there be any improvement from defensive tackle Ladi Ajiboye in terms of using his hands and length to keep himself clean and/or fight off blocks? The first step is there for him to consistently threaten gaps inside, but he allows himself to be blocked too easily on contact.
• We know defensive end Cliff Matthews has the kind of suddenness and length to be effective when asked to change directions and slip blocks off the edge. However, his ability to play with better leverage and be more effective on his bull rush is critical for his development as a pass rusher this season, since he lacks the type of elite burst to consistently win with his first step and turn the corner vs. NFL-caliber pass blockers.
Southern Miss
• DeAndre Brown might be the most physically gifted wideout in the country, and yes, that includes Julio Jones, A.J. Green, Michael Floyd and Jonathan Baldwin. At 6-6, 231 pounds he runs extremely well for his size, possesses a strong-looking frame and knows how to adjust and come down with the football. However, there are questions about the kid's maturity and willingness to put in the time off the field in order to be great. Plus, he has struggled with injuries over the past two seasons and has had some trouble both with his leg and hamstring this offseason. Nevertheless, he's got a great stage tonight vs. a very good defensive back in Culliver to prove he can consistently beat press coverage — something he has struggled with in the past vs. better cornerbacks — and be the type of elite wideout you would expect from a guy with his physical abilities.
• How does Southern Miss defensive tackle Anthony Gray handle the talent of an SEC offensive line? He's a powerful guy who can play with leverage, push the pocket and make plays in pursuit. However, showing up in a big way vs. a higher level of competition could go a long way toward earning him a draftable grade come April.
Southern Cal vs. Hawaii
11:00 p.m. ET, ESPN
What to watch for…
Southern Cal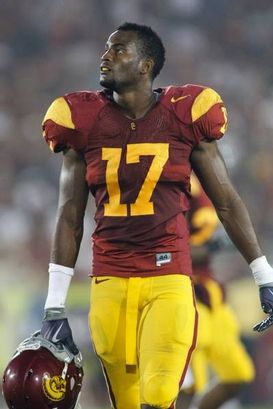 ICONMorgan needs to show well in USC's new cover-two scheme.
• How does outside linebacker Michael Morgan fit into Monte Kiffin's new cover two defense? Morgan, a former big time recruit out of high school, saw his first real significant playing time last season and struggled tremendously when asked to hold the point of attack and stack vs. the run game. However, he does exhibit good range sideline-to-sideline and has the ability to make plays in pursuit. Therefore, if there is any defense out their tailor made for Morgan to excel in, it's this one as he needs to show the ability to be dynamic at times in space. Because based off his play last season, I did not think he was a legit draftable prospect.
• One prospect who I can't wait to see tonight is cornerback Shareece Wright. Every time I have popped in the limited tape of him, he has displayed good balance and body control in his drop, good fluidity when asked to turn and run, and consistently was able to track and make plays on the football down the field. However, due to injuries and academic problems, he has seen very limited playing time each of the past two seasons. But, if he's able to build off his very impressive bowl game performance at the end of last season, I fully expect Wright to quickly work his way toward the top of the cornerback rankings in this year's draft.
• Pay close attention to the USC front four in this one because there is a plethora of NFL-caliber talent at every position. However, the two prospects I'm most excited about seeing are DT Jurrell Casey and DE Armond Armstead. Casey is moving from the nose to the three-technique this season to better utilize his initial burst, suddenness and ability to play with leverage off the snap, as he has the makings of becoming a big time disrupter inside for the Trojans. Armstead, on the other hand, is a former 6-5, 295-pound defensive tackle who is going to play on the end this season and offers a rare combination of power, length and overall athleticism for a player of his dimensions. Both are only juniors, but each has the makings of becoming a very good starter at the next level in the near future.
• What kind of physical shape is center Kristofer O'Dowd in? O'Dowd always possessed the talent, but he has routinely been hit with the injury bug throughout the course of his time at USC and it's tough to tell on tape just how healthy he is from game to game. Now, the guy is a warrior and will play through pain, but there is some ugly tape on him out there because of his inability to stay healthy. And from some scouts I have talked with he's already too big of a liability from a physical standpoint to earn much more than a later-round grade come April.
• Be sure to watch this one the whole way through, even if it is a USC blowout, because you might get a chance to see backup quarterback Mitch Mustain come in for some mop-up duty. Mustain is the Arkansas transfer who possesses a gaudy 8-0 career record as a starting NCAA quarterback. He's a talented kid who showed very well during the USC spring game and is one senior quarterback whose name keeps popping up as a potential late-round, developmental guy, a la Matt Cassel.
Hawaii
• Wideout Greg Salas isn& rsquo;t the fastest or most shifty of receivers. However, he's a natural plucker who is fearless over the middle and uses his big frame well to box out corners away from the football. Now, he plays in the slot at Hawaii and isn't a legit starting caliber wideout at the next level. But, it will be key for him to prove tonight he can separate vs. corners in man coverage who want to press and be physical with him off the line and down the field. Something he isn't accustomed to doing on a consistent basis vs. the caliber of athlete featured on the USC defense.
NFL draft/college football questions? Get them answered at Wes.Bunting@nationalfootballpost.com
Follow me on Twitter: @WesBunting
Click here to purchase the Total Access Pass/ Fantasy Draft Guide from the NFP and receive a free Deuce Brand watch while supplies last.