September 16, 2010 -
National Football Post
Thursday night college primer
A breakdown of what NFL scouts will be looking for in tonight's Cincinnati/NC State matchup.
Cincinnati vs. NC State
7:30 p.m. EST, ESPN
What to watch for…
Cincinnati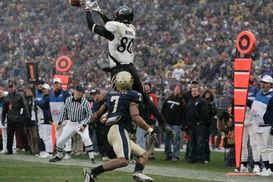 ICONBinns does a nice job adjusting to the football and going up at the highest point.
• Can wideout Armon Binns beat press coverage and quickly get into his routes off the line? Binns is a tall, long-armed wideout who possesses good ball skills and coordination when asked to go make a play on the football. He's one of those receivers you can get the ball to, even when he's covered, as he consistently locates the throw first and adjusts well in the pass game. However, he's just very "blah" as an athlete. He doesn't run real well, struggles to separate out of his breaks and lacks a real physical element to his game. I will be watching to see if he has improved in any of these areas tonight, because if not, you're looking at nothing more than a reserve-type possession receiver who will need to work more so from the slot in order to have a chance at the next level.
• Be sure to take a look at Cincinnati junior guard Alex Hoffman tonight. He's a tall, 6-6, 296-pound lineman who exhibits impressive body control, athleticism and mirror ability in pass protection. Now, he will allow himself to get a bit high at times through the play, but has the ability to sit into his stance, sink his hips initially into contact, extend his long arms and shuffle his feet cleanly in pass protection. Plus, he's a balanced/coordinated athlete in space and is one junior guard prospect who has the makings of a potential high draft pick come 2012.
• I am still intrigued enough from the 2009 tape of QB Zach Collaros to call him an NFL-caliber quarterback prospect. Now, he is undersized, but the guy is a good enough athlete to move around in the pocket, find throwing lanes for himself and just exhibited a real cool, calm demeanor last season when thrown into a real pressure- packed situation. He's been solid through his first two games, taking good care of the football and has the type of accuracy, athleticism and overall moxy to potentially end up making an NFL roster as a reserve-type option.
Others worth noting…
H-back/FB Ben Guidugli: No. 19 (6-1, 240)
A bit of a hybrid, but showcases good coordination and strength as a blocker with the ability to find soft spots in the short/intermediate pass game as a receiver. I don't think he's intriguing enough to warrant anything more than a free agent type grade, but his ability to block and maybe mature into a lead guy will certainly give him a shot of making an NFL roster.
OL Jason Kelce: No. 60 (6-3, 288)
Exhibits some natural body control and athleticism in both the run and pass game. But struggles to play with any kind of power at the point. Looks like a zone-blocking scheme guy only who needs to improve his overall strength to have a chance of sticking to a roster.
NC State
What to watch for….
• How has linebacker Nate Irving recovered from a 2009 car accident that forced him to miss all of last season? Based on his 2008 tape, Irving was one of the most impressive linebacker prospects I saw coming into the '09 season. He displayed a nice blend and pop as a tackler, good range in pursuit and looked comfortable reading his run/pass keys and quickly finding the football. He was a real standout on the NC State defense even as a sophomore and had the makings of a starting caliber defender at the next level. However, he has been pretty quiet through the first two games of the season, recording only three tackles during that time. Therefore, it will be interesting to see just where he is at now physically coming into game three.
• One guy who has been anything but unproductive during the first two games of the season is fellow linebacker Terrell Manning. Manning has recorded 14 tackles so far on the year, and at 6-3, 224 pounds he possesses an impressive combination of initial burst, aggressiveness and closing speed when working toward the football. The guy runs extremely well for the position and consistently flashes sideline-to-sideline on the NC State defense. Now, he is only a redshirt sophomore and still has some maturing to do. But, he's still a guy who is certainly worth watching with an eye toward the 2012/2013 drafts.
• Finally, be sure to take a look at junior tight end George Bryan. Bryan is a big, coordinated kid at 6-5, 265 pounds who has the type of size to win at the point of attack as a blocker and can also come down with some tough catches in the pass game. Now, he lacks great speed and isn't a guy who will be able to run by anyone at the next level. But he has a good feel for the game, knows how to use his body to box out defenders and looks like a very solid, yet unspectacular draftable tight end prospect for 2012.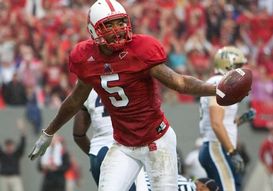 ICONWilliams can be a tough cover at the college level, but will really struggle to separate in the NFL.
Others worth noting…
WR Jarvis Williams: No. 5 (6-4, 219)
A big, tough college wideout who simply lacks the speed/explosion to separate in the NFL.
WR Owen Spencer: No. 13 (6-3, 185)
Has made his fair share of big plays throughout his career, but doesn't seem to have the kind of straight-line speed needed to threaten corners vertically down the field at the next level.
OT Jake Vermiglio: No. 70 (6-5, 325)
Possesses good size and has some natural strength. But isn't a real fluid or flexible athlete and will have a tough time holding up in pass protection vs. NFL-caliber athletes.
DE Michael Lemon: No. 94 (6-3, 267)
His inability to win individual matchups with any kind of consistency at the college level doesn't bode well for his chances in the pros.
NFL draft/college football questions? Get them answered at Wes.Bunting@nationalfootballpost.com
Follow me on Twitter: @WesBunting
Click here to win cash today playing fantasy football with the NFP and FanDuel.