September 09, 2010 -
National Football Post
Thursday night college primer
A breakdown of what NFL scouts will be looking for on the second Thursday night in the college football season.
Central Michigan vs. Temple
7:00 p.m. EST, ESPN U
What to watch for…
Temple
• Believe it or not, Temple does have one of the top safety prospects in the nation in Jaiquawn Jarrett. At 6-0, 197 pounds, Jarrett showcases impressive fluidity, balance and footwork in coverage and consistently is able to cleanly redirect and get after the football. However, the biggest question I have for him at this stage is his overall instincts, especially when asked to play in zone, as he struggles to consistently feel routes around him and get early jumps on the throw. Therefore, as a senior, I'd like to see an improvement in ball-hawking skills from him in the deep half, because physically he definitely has the ability to do so.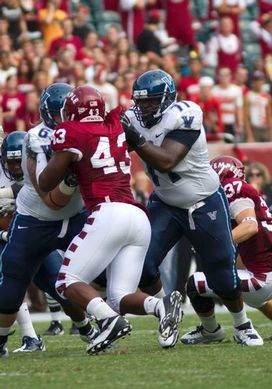 ICONRobinson lacks great size, but has the ability to rush the passer.
• Temple defensive end Adrian Robinson might be a bit undersized to play with his hand on the ground at the next level. But, at 6-2, 245 pounds, he showcases an impressive blend of initial burst, range and body control and looks like a potential starting caliber rush linebacker in the NFL. He had a strong opening game in week one vs. Villanova and it will be interesting to see how he continues to mature the rest of the season.
Central Michigan
• Is he the biggest inside linebacker? No. Is he the fastest? No. But for the past three seasons as a starter at Central Michigan, all Nick Bellore has done is tackle the football. The guy has been extremely productive with three straight 100-tackle seasons, as he's instinctive and knows how to quickly diagnose and find the football. He's the kind of player you hate to simply stereotype because of average size/speed numbers and level of competition, because he simply find ways to make plays inside. Therefore, watch him tonight with an open mind, as I could see him as 3-4 inside linebacker in the NFL.
Auburn vs. Mississippi State
7:30 p.m. EST, ESPN
What to watch for…
Auburn
• Offensively for Auburn, it will be tough not to notice the elephant in the room. And that elephant is QB Cameron Newton. Newton is a monster at 6-6, 250 pounds, but moves exceptionally well for his size. He rushed last week for 171 yards on 15 carries, while throwing for 186 yards on 9-of-14 passing. Newton is a dual run/pass threat that can be really difficult to game plan for at the college level. However, in terms of NFL potential, I want to see him continue to mature mentally as a pocket passer. The skill set is obviously there for this guy to make all the throws, break containment and beat NFL defenses in a number of ways. But, there is still a major learning curve for him this year, which he isn't going to overcome in a matter of weeks. But, steady progress and glimpses that he is trying to do the right things in order to develop — go through his progressions, align his feet/body into throws, keep his head down the field when moving in the pocket, etc. — is what I will be looking for not only tonight, but all season long.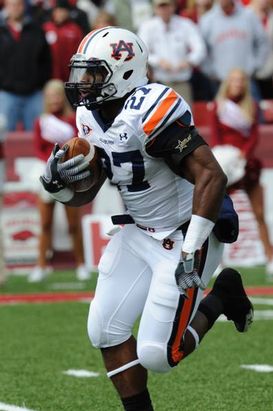 ICONExpect a big effort tonight from Fannin both in the run and pass game.
• RB Mario Fannin is a talented kid who possesses a gifted size/speed skill set and knows how to catch the football out of the backfield. However, he was given a light workload last week in part because of some struggles holding onto the football. But, I wouldn't read too much into it. Fannin possesses the type of strength to wear down tough SEC defenses with the speed to break that big one at the second level. He's a guy who I think will come out playing with a big chip on his shoulder in this one and is ready to start making his push as one of the nation's top senior running backs.
Others worth watching…
OC Ryan Pugh: No. 50 (6-1, 295)
A gifted move player who has the ability to slide his feet, maintain balance and cut down defenders in space. Needs to get stronger, but has a skill set that could definitely stick in more of a zone-blocking scheme.
ILB Josh Bynes: No. 17 (6-2, 238)
A thick linebacker prospect who has a burst attacking downhill and can be physical at the point. However, he's a bit limited because of his stiff hips and lack of ideal instincts vs. the run. But, still looks like a guy who could make a roster as a reserve and help out on special teams.
SS Zac Etheridge: No. 4 (5-11, 209)
It's tough to give a safety a good grade who struggles as a tackler, isn't real instinctive and lacks the type of fluidity and range to make up for it.
Mississippi State
One man responsible for trying to slow down Fannin tonight from reaching the edge is DE Pernell McPhee. McPhee is a physical, long-armed kid who at 6-4, 285 pounds, has the power to consistently anchor on the edge, play off blocks and then use his range to make plays on the football. He was really productive last season, but he did struggle at times in his first year playing in the SEC with some of the intricacies of the position (getting off the football on time, reading his run pass/keys and consistently giving himself a chance to make a play on the football). However, in his second year, I expect him to take a big jump in the mental aspect of the game and even further his production as one of the SEC's top defensive linemen. Therefore, seeing where he is at finding the football tonight vs. Gus Malzahn's "hurry-up, no-huddle offense" will be a great indicator of just how much he has improved mentally from last season.
Others worth watching…
OC J.C. Brignone: No. 70 (6-1, 299)
Possesses above-average athleticism and knows how to generate leverage for himself with good hand placement in both the run and pass game. Looks like a draftbale center who eventually could fight for legitimate playing time down the line.
OLB K.J. Wright: No. 34 (6-3, 245)
Is a big, long, athletic kid who knows how to use his length/athleticism to fend off blocks. Want to continue to see him improve his read and react ability and deliver more of a snap at the point of attack, but overall looks like a starting caliber SLB in the NFL to me.
ILB Chris White: No. 50 (6-3, 241)
A very "blah" athlete who doesn't exhibit the kind of explosion in any area of the game to warrant a draft pick or a roster spot at this stage.
Offensive tackle fight night
Auburn OT Lee Ziemba: No. 73 (6-6, 320)
Vs.
Mississippi State OT Derek Sherrod: No. 79 (6-5, 305)
Ziemba
Strengths
• Coordination as a pass blocker
• Long armed and can be a velcro player at times
• Improved hand placement in 2009
Weaknesses
• Rolls hips into blocks in the run game
• Lacks great range in pass protection
• Struggles to s uddenly redirect and mirror in space
Sherrod
Strengths
• Range toward the edge in pass protection
• Possesses good mirror ability in space
• Has the athleticism to pull and reach targets off his frame in the run game
<p>
Weaknesses
• Isn't the most natural of benders, will struggle to sit into his base
• Lacks patience on his punch, will lunge into blocks
• Isn't real heavy handed and doesn't have the type of makeup (physical or mental) to simply drive defenders off the ball.
Rundown…
Although Ziemba might be a little more coordinated than Sherrod, he's not nearly as rangy or athletic in pass protection and doesn't offer the same type of athleticism to get out in the run game and chop down defenders off his frame. Plus, he's stiffer in the hips when asked to redirect, and I simply don't see Ziemba being much more than a versatile swing tackle in the NFL, as he lacks the range to hold up in pass protection on the left side and the power to win at the point on the right.
Sherrod on the other hand does offer the kind of athleticism and size to fight and win a left tackle spot with some time and development. He's still a bit of a work in progress, as he has to learn to be a more patient blocker and use his hands a little better. He might be better suited to play as a right tackle in more of a finesse scheme, but he does have the skill set to certainly intrigue early in the draft and if he's willing to put in the work, the guy could mature into a dependable starter on either side for an NFL team.
NFL draft/college football questions? Get them answered at Wes.Bunting@nationalfootballpost.com
Follow me on Twitter: @WesBunting