October 07, 2010 -
National Football Post
Thursday night primer
A breakdown of what NFL scouts will be looking for in tonight's Nebraska-Kansas State matchup.
Nebraska vs. Kansas State
7:30 p.m. EST, ESPN
What to watch for: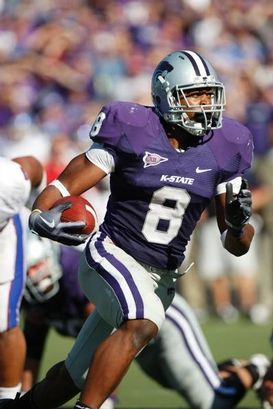 ICONExpect Thomas to have a tough time finding running room tonight.
Can Daniel Thomas prove his worth?
Kansas State running back Daniel Thomas has been on a tear during the early part of the season, rushing for 628 yards through four games and averaging 6.0 yards per carry. He's a big 6-2, 230-pound back who displays good natural body control for his size, possesses above-average footwork and runs hard. However, despite his size and production I am really not a big fan of Thomas as a prospect. I don't think he's real explosive when asked to press the hole and consistently forces his offensive line to block the man in front of them twice before he is able to reach the line of scrimmage. Plus, he runs too upright, exposing his frame to contact and negating from his lateral quickness, and simply lacks the type of burst out of his breaks to really accelerate away from anyone once he gains a step.
Therefore, watching him tonight vs. a very formidable Nebraska front seven will be key in evaluating just what type of back he can be in the NFL. Does he have the ability to fight for tough yards through contact and create when nothing is there? Or is he a guy who will have a tough go at times inside because of the lack of room to work with and the fact he isn't a real sudden/dynamic runner in tight areas? He really struggled last week vs. a faster, more athletic Central Florida defense and I simply don't see him as much more than a physical No. 2-type back at the next level. Reminds me a bit of former Titans/Texans RB Chris Brown.
His counterpart
The other back to watch is Nebraska's Roy Helu Jr., who isn't real dynamic in any area of the game. However, he has a nice feel between the tackles, good enough footwork to pick his way through creases, squares his shoulders quickly and loves to lower his pad level when finishing runs. He's a tough kid who adds a real physical elemental to the Nebraska rushing attack and has the ability to wear down opposing front sevens early before starting to gash them come the second half. Plus, he's a better straight-line athlete than given credit for and is the type of back who I am really starting to warm up to. I don't think he's quite dynamic enough as a runner for me to ever feel comfortable saying he's a starting-type option in the NFL. But, I have heard the Ryan Grant comparisons when he came out and I expect nothing other than a very reliable and sound performance from Helu tonight as he continues to build his draft stock.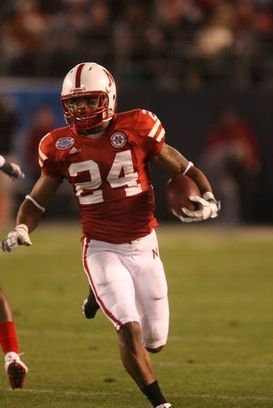 ICONPaul definitely has the talent, but his touches will be down all year because of the offense.
Can you throw the big dog a bone?
Nebraska wideout Niles Paul is in a really tough situation. He's a talented kid who has the ability to be sudden and powerful off the line, accelerate away from corners and make plays on all levels of the field. However, because of the Cornhuskers run-first offense, Paul has seen very limited opportunities as a pass catcher, especially over the past two weeks where he has hauled in a grand total of one grab for 21 yards during that time. And what makes it even more interesting is that Paul does have some past character concerns, and in fear of driving up the potential character concern talk, he's just kind of gone about his business and tried to fit into the system. However, after only scoring 17 points last week vs. South Dakota State, I fully expect the Cornhuskers to take some shots down the field tonight to a very hungry and very talented Paul, who in my opinion is the most dynamic senior wideout in the country and could be in store for a big night.
The second coming
There isn't a better senior cornerback in the country than Nebraska's Prince Amukamara and you'd have a tough time convincing me that there is a junior talent out there better than him as well. Amukamara has done a better job this year maintaining his balance when asked to press, is physical down the field and just looks like one of the few blue-chip prospects in this year's draft.
However, be sure to keep a close eye on fellow CB Alfonzo Dennard, a junior who has been absolutely brilliant at times in his own right this year. He's not quite as big as Amukamara, but has a good feel for the game, possesses impressive body control and can quickly click and close on throws under him. I don't think there is any chance he comes out this year, but he has the makings of being the next big time defensive prospect to come from Nebraska.
Others worth watching…
Kansas State
C Wade Weibert: No. 74 (6-4, 303)
Possesses good length and uses his long arms to initially get into blocks. But doesn't possess the kind of power, body control or athleticism to stay engaged in any area of the game.
DE Antonio Felder: No. 40 (6-2, 244)
Possesses some natural athletic ability, but lacks power/technique in all areas of the game. Might be able to get himself into an NFL training camp as a developmental 3-4 rush guy, but is nothing more at this stage.
Nebraska
TE Mike McNeill: No. 44 (6-4, 228)
He's a natural pass catcher who can create some mismatches for you in the pass game, but limits himself because of his size and inability to hold up as a blocker. More of an H-back type option who will be able to win for you vs. man-coverage.
OG Ricky Henry: No. 74 (6-3, 305)
Does some things well in the run game and is a tough kid, but doesn't strike me as a guy who has the ability to consistently win as either a run or pass blocker at the next level.
OL D.J. Jones: No. 73 (6-5, 316)
Lacks the range and athleticism to play tackle at the next level and simply doesn't have the type of short-area quickness/body control needed to hold up inside either.
DE Pierre Allen: No. 95 (6-4, 263)
Possesses a strong, long frame with the ability to anchor and fight his way through blocks. Doesn't have the type of explosive element or suddenness to ever be much of a playmaker at the next level — more of a rotational DE who should be able to make an NFL roster.
NFL draft/college football questions? Get them answered at Wes.Bunting@nationalfootballpost.com
Follow me on Twitter: @WesBunting