September 09, 2011 -
Barry Dorey
Thursday Revelations
Thursday Revelations
Pegging Rodgers (312 yards passing, 3 TDs) and Brees (419 yards passing, 3 TDs) for fantasy greatness might have been the easiest call of Week 1 ... and perhaps the season. After all, we're talking about the last two Super Bowl MVPs and heavily involved caretakers of the NFL's most prolific offenses. Rodgers' first-quarter run at perfection (14-of-15 passing, 3 TDs) was remarkably efficient and Brees' Joe Montana-like patience during the Saints' final drive was something to behold ... just weeks after a 132-day lockout. And while New Orleans must reconcile the bitter taste of a last-second defeat, the club can quietly celebrate that it won't play in any cold-weather games all season -- unless Nashville encounters a record chill on Dec. 11. (The Saints play 11 of their next 15 indoors ... with the four outdoor games occurring in southern climates.)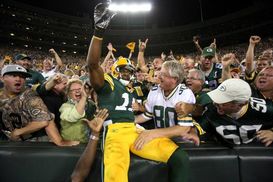 Randall Cobb had one hell of a coming out party.
2. Rookie Randall Cobb may be too hot for television. With his breakout performance in the Packers' high-profile win, Cobb (two TDs) may have unwittingly raised his fantasy expectations to an unsustainable level. Can you imagine the blind-bidding auction money that'll be spent on Cobb next week, especially in leagues that reward individual kick-return touchdowns? That 108-yard scoring return -- breaking several tackles along the way -- may have been the beacon moment of a highlight-heavy classic. Without a doubt, Cobb (2 catches, 35 yards, 1 TD) is an electrifying talent who may have vaulted the Packers into the No. 1 fantasy slot for defense/special teams; but when surrounded by Green Bay's healthy playmakers, he's likely the sixth-best bet for consistent weekly stats. And that assumption may not include James Jones (more on him later).
3. Mark Ingram fell one yard shy of justifying his standing as a flex-option starter. Herein lies the razor-thin difference between a good and bad fantasy outing: Had Ingram crossed the goal line on the Saints' final play of the game, his 41 yards and one TD would've merited 10 points in standard-scoring leagues. Instead, he finished with a pedestrian 40 yards and became an albatross for owners who'll likely spend the next three days lamenting the decision to start Ingram over Joseph Addai, Tim Hightower, Marshawn Lynch or even Michael Bush. But that's what makes fantasy football so great: Owners living and dying with their choices every Sunday ... and their unconditional willingness to experience the same agony the following week.
4. Prospective owners should proceed with caution when pondering the fantasy viability of Devery Henderson and Robert Meachem. If you had canvassed 100 relatively sober fans after Thursday's game on "Which non-quarterback finished with the most yards from scrimmage?" ... I'm guessing that less than 10 percent would have tabbed the mercurial Henderson for that honor. Henderson (6 catches/100 yards/1 TD) was stellar in place of the injured Lance Moore, making the most of the Packers' rolled coverages against Marques Colston (6 catches, 81 yards) and TE Jimmy Graham (4 catches/56 yards/1 TD). But now, I feel obligated to report the following: In 88 regular-season games, Henderson has never scored a touchdown in consecutive weeks. On the flip side, Meachem (5 catches, 70 yards, 1 TD) has tallied touchdowns in consecutive games five times since the midway point of the 2009 season. At the very least, he deserves flex-week consideration for Week 2 against Chicago ... as long as owners understand that Meachem's fantasy success comes in surprisingly short bursts -- like a supernova.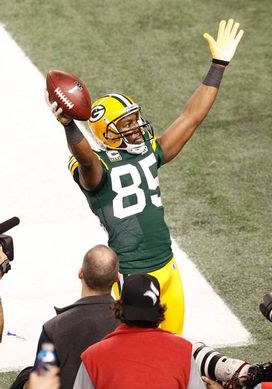 ICONGreg Jennings had a big night, but James Jones was nowhere to be found.
5. James Jones caught one more ball and gained one more yard than yours truly on Thursday. When forecasting "Wide Receiver Locks For 110 Yards and/or 1 TD" each week, I like to mix one long-shot selection in with the normal parade of superstars (Andre Johnson, Calvin Johnson, Roddy White, Larry Fitzgerald, Hakeem Nicks, Greg Jennings, etc.) -- just to walk the proverbial plank for no particular reason. And while that boom-or-bust tradition should continue for Weeks 2-17 ... Jones will no longer be tabbed for unexpected dominance from this point forward. For starters, Greg Jennings (7 catches, 89 yards, 1 TD) is an unimpeachable force as Green Bay's WR1, Jordy Nelson (6 catches, 77 yards, 1 TD) gets better explosion off the line, tight end Jermichael Finley (3 catches, 53 yards) is a magnet for red-zone targets ... and the ageless Donald Driver has apparently morphed from human to cyborg. What other explanation can be made for Driver quickly rebounding from Malcolm Jenkins' rib-spreading, teeth-rattling hit in the second quarter? The Verdict: He's a machine.
QB Locks For 275 Yards and/or 3 TDs -- Sunday/Monday Edition
1. Philip Rivers vs. Minnesota
2. Tom Brady @ Miami
3. Kevin Kolb vs. Carolina
4. Matt Schaub vs. Indianapolis
RB Locks For 120 Total Yards and/or 2 TDs
1. Adrian Peterson @ San Diego
2. Frank Gore vs. Seattle
3. LeSean McCoy @ St. Louis
4. Ray Rice vs. Pittsburgh
5. Matt Forte vs. Atlanta
6. Beanie Wells vs. Carolina
7. Steven Jackson vs. Philadelphia
8. Ryan Mathews vs. Minnesota
9. Darren McFadden @ Denver
WR Locks For 110 Yards and/or 1 TD
1. Andre Johnson vs. Indianapolis
2. Brandon Marshall vs. New England
3. Larry Fitzgerald vs. Carolina
4. Calvin Johnson @ Tampa Bay
5. Roddy White @ Chicago
6. Vincent Jackson vs. Minnesota
7. Mike Wallace @ Baltimore
Kicker Locks For 3-Plus Field Goals
1. Shaun Suisham @ Baltimore
2. Ryan Succop vs. Buffalo
3. Nick Folk vs. Dallas
4. Robbie Gould vs. Atlanta
5. Sebastian Janikowski @ Denver
6. Josh Scobee vs. Tennessee
Passing Fancy
Here's a revised listing of my always-fluid rankings for starting QBs, 1 through 32:
1. Drew Brees, Saints
2. Tom Brady, Patriots
3. Aaron Rodgers, P ackers
4. Michael Vick, Eagles
5. Philip Rivers, Chargers
6. Matt Schaub, Texans
7. Tony Romo, Cowboys (a supreme fantasy test against the Jets on Sunday)
8. Ben Roethlisberger, Steelers
9. Matt Ryan, Falcons
10. Josh Freeman, Buccaneers
11. Eli Manning, Giants
12. Joe Flacco, Ravens (could realistically throw for 27 TDs this season)
13. Matthew Stafford, Lions
14. Jay Cutler, Bears
15. Sam Bradford, Rams
16. Kevin Kolb, Cardinals (expect hefty numbers against the Panthers in Week 1)
17. Kyle Orton, Broncos
18. Ryan Fitzpatrick, Bills
19. Matt Cassel, Chiefs (O-line coach Bill Muir will also be calling the plays)
20. Mark Sanchez, Jets
21. Chad Henne, Dolphins
22. Donovan McNabb, Vikings (threw for 450 yards/2 TDs against San Diego in 2009)
23. Colt McCoy, Browns
24. Matt Hasselbeck, Titans
25. Kerry Collins, Colts
26. Alex Smith, 49ers
27. Jason Campbell, Raiders
28. Tarvaris Jackson, Seahawks (Sidney Rice's presence would help on Sunday)
29. Cam Newton, Panthers
30. Andy Dalton, Bengals
31. Rex Grossman, Redskins
32. Luke McCown, Jaguars (Really? Seriously?)
Questions From The Audience
davdchapman: If Kerry Collins gets the nod for the Colts ... do I start Collins or Raiders QB Jason Campbell?
Answer: I'd ride Collins in Week 1, for no other reason than Indy will likely throw the ball a lot in the second half against Houston. On the flip side, the over/under for Campbell pass attempts in the fourth quarter against Denver is "6."
MrDjackels: Should I go with Chargers RB Mike Tolbert or Giants RB Brandon Jacobs?
Answer: Jacobs has 464 total yards and four TDs in his last six games against the Redskins (2008-10), so he's obviously a sneaky-good play for Week 1. But if we're talking about the best pure handcuff of 2011, my vote goes to Tolbert, who'll have a front-row seat for Ryan Mathews' expected breakout ... but still may shine in games where the Chargers rack up 25-plus points. Like Sunday against the Vikings. It's close, but I'd go with Tolbert.
jsmarts333Peyton Manning's out forever. I have Bills QB Ryan Fitzpatrick. Should I pick up Kerry Collins, Alex Smith, Chad Henne or Jason Campbell for the year to alternate with Fitzpatrick?
Answer: I've devoted a tangible amount of 'Philanthropist' editorial space to how the Dolphins desperately need consistent production from Henne (one of six QBs to attempt 46-plus passes in three games last year) and WR Brandon Marshall; and this question serves as the perfect opportunity to reaffirm the courage of my convictions. If Peyton is really out for the season, then Collins should garner plenty of consideration; but I have greater confidence in Henne's ability to rebound from a shaky season -- which curiously included seven Miami road wins but just one home victory.
HalKodnerLMT: I've been offered a 2-for-1 trade ... getting Matt Forte and giving up Knowshon Moreno/Fred Jackson. My tailbacks would then be Forte, Jahvid Best, Thomas Jones, Danny Woodhead, Jerome Harrison. It's a no-brainer, right?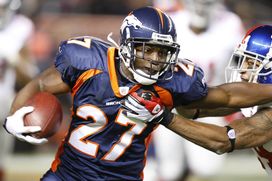 The Philanthropist says stick with Knowshon Moreno (above) and Fred Jackson.
Answer: Meh, I'd rather have Moreno and Jackson solidifying your solid, but unspectacular corps of running backs than heaping all the pressure onto Forte and Best. Obviously, Forte is one of my favorite players in fantasyland and a good bet for 1,800 total yards, but he's not dominant enough -- touchdown-wise -- to cover the production of Moreno and Jackson as a tandem. I could easily have a different answer in four days; but right now, my gut says stay with Moreno and F-Jax. Or at the very least ... make Owner B up the ante on this potential mini-blockbuster.
JimboSaysWhat: I have a 2-for-2 trade offer ... Fred Jackson/Donovan McNabb for James Starks/Joe Flacco. Jamaal Charles, Ahmad Bradshaw, Pierre Thomas are my three top backs.
Answer: Pierre Thomas is a solid flex option at running back and would arguably start ahead of Jackson roughly 5-6 times this season ... making this deal an isolation between McNabb and Flacco. And for that QB battle, I'd ride Flacco for at least 13 weeks. This is a close decision in Flacco's favor ... with Starks thrown in for good (or great) measure.
rocknwitdblest: Which three RBs would I start in a 1/2-point PPR league for Week 1 -- Shonn Greene, Cedric Benson, Felix Jones, Rashard Mendenhall?
Answer: Felix Jones will probably catch the most passes of this foursome by season's end. But for Week 1 against the Jets, he's a minimal play in any league -- even PPRs. Let's ride the ground-and-pound trio of Mendenhall, Benson and Greene this weekend.
rssp55: Who would you start in the flex for Week 1 -- Mike Tolbert, Jeremy Maclin, Anquan Boldin, LaDainian Tomlinson, Plaxico Burress, Percy Harvin?
Answer: I'm sure that Maclin, a Missouri native, desperately wants to have a great game in front of the St. Louis folks, but he's not an automatic flex option at this point (training camp rust); and Boldin would be a greater consideration in any other week that didn't list the Steelers as the opponent. My head and heart say that Harvin's the strongest play against the Chargers. Good luck!
crackalackas: Would you trade Aaron Rodgers/Rob Gronkowski to get Arian Foster/Josh Freeman? The other owner is a 'Green Bay homer' and already has Greg Jennings for this league (6 points per passing TD).
Answer: At face value, I'd want the Foster/Freeman side of the ledger -- just barely. But if Owner B is really a Packers sycophant, then you should exploit that homerism ... and make him/her raise the stakes as part of a larger 6-man swap. This is why it's fun to play against owners who wear fantasy blinders for a real-world club: They develop the illusion that cheering for their favorite player (Rodgers, for example) won't be as much fun ... if A-Rodg isn't on their fantasy team, as well.
AcmeCoc ktailCo: Would you want Felix Jones/Beanie Wells for Greg Jennings in a PPR league 2-for-1 trade?
Answer: Here's the breakdown: If Jennings is the final piece of a championship-contending team -- one that has all-world starters from QB to kicker -- then the trade makes perfect sense. And if you're constructing a roster for the long haul -- with the assumption that injuries WILL happen -- it's wise to add Felix and Beanie to the running-back stable. As the saying goes, you can never have enough quality tailbacks in fantasy.
ericmd83: I've got a big 1-for-3 offer on the table ... giving up Andre Johnson and getting Matt Forte/Anquan Boldin/Julio Jones. Should I ask for more? Miles Austin/Vincent Jackson are my No. 2 and 3 receivers right now ... and my running backs after the trade would be Forte/Rashard Mendenhall/BenJarvus Green Ellis. (10-team league, standard scoring)
Answer: I would hate to surrender Andre Johnson (673 catches/9,164 yards/77 career TDs) in any season -- especially when the Texans are overwhelming favorites to capture the AFC South title. But for my overall rankings, Forte is just a half-notch below AJ ... and Boldin and Julio Jones would be enough to make up that difference. And on the flip side, you'll have three rubber-stamp starters at tailback in Forte, Mendy and BenJarvus. It's probably a win-win deal for both sides, but I'd still do it. Take the leap!
An award-winning fantasy writer with Sports Illustrated (2008-2010) before joining the National Football Post, Jay Clemons' Fantasy Philanthropist Blog can be found here every Monday and Thursday during the regular season. Clemons can be reached, day or night, via Twitter.