February 26, 2011 -
National Football Post
Time to handle my business
Editor's note: Mason Foster is a 6-2, 242-pound senior linebacker from the University of Washington who will be keeping a running journal for the National Football Post as he prepares for April's draft. This is his first entry.
I feel like I've been waiting forever for combine week to get here. At the conclusion of January's Senior Bowl, it felt like the combine was still a long way off, but all of that changed this past week. The guys I've been training with at Athletes' Performance in Los Angeles have been taking off for Indianapolis every day.
It's finally here.
For the past two months, I've been working harder than ever before. This is the job interview of a lifetime and there's no way I'm going to let anyone outwork me or show up in to Indy in better shape.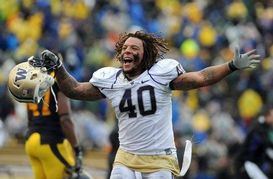 When I got back to L.A. after the Senior Bowl I hit it pretty hard. But over the past week I've been tapering down so that my body is fresh for the combine. I would compare these last seven days of preparation to the walkthroughs we used to have on gamedays at Washington.
I've already been put through the routine that I'll be facing at the combine, but with more emphasis on technique. I want everything to be crisp and fluid when I'm going through the workouts for the NFL teams. That has been my primary focus this past week. I've been staying off my feet when I'm not at API, watching a lot of basketball and hitting up the Jacuzzi whenever the opportunity arises.
Everyone is asking me if I'm nervous. But to tell you the truth, the answer is a resounding "no." One reason is because the Senior Bowl gave me the opportunity to perform in front of general managers, coaches and scouts. And seeing them in the stands won't be new for me. I also had the chance to interview with scouts from every team, plus a number of coaches and GM's.
Another reason I'm not nervous is that I'm confident in my abilities and know that I've worked harder than anyone else to be prepared for this week. I know there are some great linebackers in this draft, but I plan on using this week to prove to the NFL that I'm as good, if not better than all of them.
I played in the Pacific Northwest for a team that didn't have a winning season until my senior year, so I feel like a lot of people haven't seen me enough to know what I can do. This week I'll get to compete at the highest level, side-by-side with my direct competition.
There is nowhere for anyone to hide, and I'm ready to open some eyes.
Since my season ended after the Holiday Bowl, it's been very hectic. But it's all been worth it. I've been dreaming about playing in the NFL since I was a kid and this is a big step towards achieving that dream. I've talked to a lot of guys that have been to the combine and they all say that I should be ready for anything. My agent and the team from API have made sure that I'm prepared and they will be in Indy to support me as well.
I've set goals for each specific drill and am going to reach them all. This is a business trip and I plan on taking care of my business.
-Mason
CLICK HERE to check out Mason's first journal entry, CLICK HERE to check out his second journal entry.
CLICK HERE to check out Mason's facebook fan page.
CLICK HERE to check out Mason's website.
Follow Mason on Twitter: @Mason_Foster