January 01, 2011 -
National Football Post
Today's top prospects to watch
A breakdown of the top prospects to watch throughout today's full slate of January 1 bowl games.
CAPITAL ONE BOWL
Who to watch for…
Alabama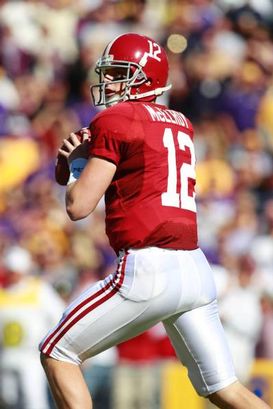 ICONMcElroy's poise will be key today.
QB Greg McElroy: No. 12 (6-3, 225)
Possesses average overall height for the position, decent girth through his frame and is a good enough athlete to move around the pocket and find throwing lanes for himself while avoiding the rush and keeping his eyes down the field. However, he needs to do a better job being content to throw the football away. At times will move around too much trying to buy time and takes far too many unnecessary sacks for a senior quarterback.
Does a nice job manipulating defenses in the pocket, knows how to work his eyes from one side of the field to another and consistently is able to find his secondary reads. Possesses a good mental clock, for the most part, getting rid of the football on time in the face of pressure and does as good a job as any quickly identifying his hot read and getting the ball out on time. Exhibits top-tier accuracy in the short and intermediate pass game, and when he can step up into a throw his ball placement is about as good as it gets.
Allows receivers to run through his passes and create after the catch. Has improved his footwork this season, keeping his feet under him, striding toward his target and doesn't fall off nearly as many throws as he did last season. However, he does lack ideal arm strength at this stage. Isn't a guy who can consistently throw the football on a line down the field, can't be late with a read and has to rely on his ability to anticipate routes and be on time in order to make all the necessary NFL throws. But with some hard work and wrist strengthening he can improve a bit in that area. Possesses above-average touch in the short/intermediate pass game, but the ball seems to really hang up on him any time he's asked to try to make a play vertically and has had a tendency to overthrow some very good receivers during his time at Alabama.
Has that "it" factor. He seems to always be in control of the game, never lets his emotions get the best of him and he's a winner dating back to his high school days. He has been very productive in the fourth quarter of some big ball games and seems like the kind of smart, level-headed kid who is going to work as hard as any QB in the draft class once you get him into an NFL camp.
Impression: Has really made strides as a quarterback. Isn't the most physically gifted of kids, but he reads and reacts as well as any QB in the nation, can decipher info quickly and is very accurate with the football. Might be more of a backup type option on most teams' draft boards, but if he gets in the right kind of scheme the guy does have the ability to fight for playing time with some development.
Michigan State
OT D.J. Young: No. 59 (6-5, 300)
A former defensive tackle who transferred from Bowling Green after the 2007 season and has started at both right and left tackle over the past two seasons at Michigan State. Possesses good bend in his lower half, coordination out of his stance and off the edge, as he does a nice job staying calm with his hands and mirroring through contact. Isn't the most physical of in-line run blockers and has a tendency to fall off blocks too quickly when trying to get a push as he gets overextended into contact trying to make up for a lack of ideal power. But, he possesses the kind of broad lower half that can get stronger and he does a nice job staying low and blocking with leverage.
Also will get a bit overextended with his footwork at times when asked to quickset on his kick-slide. However, he looks like a pretty intriguing pass blocker who has the frame and flexibility to keep defenders from getting into his chest, slides his feet well toward the corner and has above-average range off the edge. Showcases above average body control and balance through contact and uses his length well to stick to defenders and mirror in tighter areas.
Overall: A guy who has come on in a big way in 2010. Isn't a real physical run blocker at this stage, but is coordinated and flexible in pass protection and has the ability to make a roster as a rookie and fight for playing time down the line.
OUTBACK BOWL
Who to watch for…
Penn State
OC Stefen Wisniewski: No. 61 (6-3, 297)
A natural bender who showcases good flexibility and can really fire off the ball and get into opposing linemen quickly. Has a strong lower half and does a nice job quickly scoop blocking around defensive linemen, driving his legs through contact and washing defenders away from the play. Plays with natural leverage and consistently gets under his man and locks him out at the point of attack. Possesses the body control to chip and get out to the second level, where he exhibits a jarring punch on contact. Displays good technique and bend in all areas of his game and can really sit into his base and anchor inside. Continues to rework his hands and fight for inside leverage and is really tough to disengage from in the run game. Now, gets a bit ahead of himself on slide down blocks at times and will lose his balance trying to stay on defenders down the line. However, he's a better in-line run blocker than given credit for, quickly firing off the football, pumping his legs through contact and creating a bit of surge inside while maintaining his balance through the play.
Snaps and steps quickly and showcases natural lateral ability, smoothly changing directions and keeping his base down when asked to mirror in space. Is surprisingly heavy handed, consistently is able to get under the pad level of defenders and does a nice job moving his feet and sliding with opponents through contact. Occasionally gets caught overextending into blocks from his upper body and can be slipped at times, but for the most part is very patient and technically sound into contact.
You can tell he comes from a family of former NFL linemen. He's technically sound, moves well through contact, sticks to blocks and looks like a guy capable of starting from day one at the next level.
Florida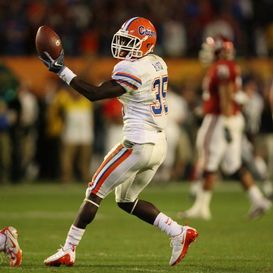 ICONBlack loves to throw his body around in the deep half.
S Ahmad Black: No. 35 (5-10, 185)
Possesses decent height, but is thin for the safety position. Exhibits natural bend when asked to sit into his back-pedal, keeps his feet under him in his drop and gets good depth off the line of scrimmage. However, isn't real patient with his footwork and too often seems to be moving too fast for his own good, which causes him to struggle to maintain balance through the play. Isn't real quiet with his hands either and too often is forced to gear down in order to regain his balance and get out of his breaks. Looks much more comfortable when asked to click and close on the football, but even then you notice a little bit of a hitch going forward. Possesses good ball skills and does have some natural fluidity when asked to turn and run. However, isn't the most instinctive of defenders reading his keys from the deep half. Gets caught too often t aking a false step, getting overextended with his footwork and struggling to get back out of his breaks. Exhibits some man-to-man cover skills when asked to come down over the slot. Does a nice job being physical in coverage, recognizing routes and cleanly opening up his hips and staying with his man. Possesses good, but not great, speed when asked to close. Exhibits a good initial burst, but lacks the type of second gear to consistently make up for a false step in the deep half.
Is a patient tackler who does a nice job breaking down in space and really generating a burst for himself through contact. Can explode into tackles when asked to strike, picks up speed quickly, lowers his pad level and brings his legs. Again, lacks ideal instincts when asked to read his run keys and find the football, but can certainly tackle once he locates the football.
Impression: An undersized safety prospect who plays bigger than his frame would suggest. Needs to calm down his footwork and hands in his drop, but has some natural cover skills. Looks like a guy who can make an NFL roster, but because of his size and lack of ideal footwork, looks more like a nickel guy to me.
ROSE BOWL
Who to watch for…
Wisconsin
OT Gabe Carimi: No. 68 (6-7, 320)
A long, well put together offensive tackle prospect who has some real nasty to his game and possesses good overall strength for the position. However, isn't the most flexible of linemen when asked to sit into his stance. Struggles to consistently keep his base down and footwork compact on his kick-slide and can be bullied at the point at times because of his overextended footwork. Now, is a very patient puncher and does a nice job delivering a compact, strong jolt into contact. But too often explosive defensive ends are able to reach the corner on his kick-slide, forcing him to quickly open up his hips and lunge into his target in an effort to push them past the play. Displays the ability to anchor with consistency against the bull rush and exhibits good power in his upper body once he gets his hands on you. Does a nice job moving his feet through contact and sticking to blocks and is much more comfortable when engaged.
Exhibits a good first step off the snap in the run game and is able to keep his pad level down much more consistently, creating initial movement as an in-line guy. Gets his big paws up quickly into contact, exhibits good hand location, creates a jarring punch and is heavy handed through the play. Likes to finish runs and plays with a mean streak. Looks comfortable when asked to seal defenders away from the play. Also, was pretty impressive in the open field for a guy his size, getting out to the second level with ease, reaching a target and sealing them from the play.
Impression: Isn't a guy who I would trust on the left side at this stage in the NFL, but he can win for you in the run game and looks more like a very solid right tackle prospect to me.
TCU
OL Marcus Cannon: No. 61 (6-5, 358)
A massive, thickly built offensive lineman who fills out his frame really well and doesn't look to have much soft flesh through his mid-section despite his weight. Has experience at both right and left tackle and has been one of the most dominant linemen in the MWC over the past three years. Showcases natural flexibility in his lower half and has the ability to sit into his stance, fire off the football without much wasted motion and create a real jolt on contact in the run game. Blocks with leverage despite his size initially off the football, can get under defenders and is really heavy handed through contact. Exhibits a good, balanced punch off the ball, extends his long arms well into contact and can create a jolt at the point. But, he doesn't play with a consistent mean streak and at times will get a bit upright through contact and be content to just seal. But when TCU needs a yard he definitely has the ability to routinely drive defenders off the football and finish. However, needs to do a better job getting off the snap count on time. Too often is the last lineman moving off the snap and will initially allow opposing defenders to get under and into his frame, forcing him to play from behind instead of consistently being the aggressor.
Showcases good range off the edge in the pass game for his size, but isn't real coordinated on his kick-slide. Has a tendency to lose balance easily in his footwork, gets overextended easily and is forced to open up his hips in order to reach defenders flattening out around the corner. Now, he does have the length, power and coordination to unleash a nasty punch on contact and is a Velcro guy who is at his best when asked to anchor and move his feet through contact, but will struggle with athleticism and burst off the edge.
Impression: A massive, strong body with some bend and natural athleticism for his size. Lacks the range to play left tackle in the NFL, but I could see him starting at either a right tackle or guard and becoming a very good player at either spot.
Follow me on twitter: @WesBunting