January 21, 2012 -
Jay Clemons
Top 10 Championship Sundays
The Grand Introduction
For the casual American sports enthusiast, nothing compares to the pomp and circumstance of Super Sunday -- complete with red-carpet celebrity appearances, big-budget, industry-changing commercials, endless food spreads, uplifting halftime musical extravaganzas and oh yeah, the Super Bowl itself. But for the hard-core NFL fan, the best football day likely occurs on Championship Sunday -- a long-standing tradition of determining the two Super Bowl entrants in a clean seven-hour window every January. Well, this column caters to the fan who fondly recalls the efforts of Len Dawson, Dave Osborn, Dwight White, Mike Renfro, Ken Anderson, Dwight Clark, Mark Moseley, A.J. Duhe, Charles Mann, Merton Hanks or any other major contributor who helped make Championship Sunday the spectacle it is today.
Top 10 Championship Sundays Of The Super Bowl Era
1. 1987 Season -- Washington 17, Minnesota 10/Denver 38, Cleveland 33
The Skinny: If not for the heroic efforts of Redskins cornerback Darrell Green (robbing Anthony Carter of a game-tying touchdown in the waning seconds) and Broncos safety Jeremiah Castille (famously stripping Browns tailback Earnest Byner before a game-tying score in the final minute), this Championship Sunday would have produced two overtime classics, thus crushing its competition in this category by the largest of margins. Instead, we're left to celebrate two amazing games that titillated TV viewers from the first whistle to the final gun -- while perpetuating the notions that Vikings and Browns fans are a cursed bunch, resigned to never experience the enduring dream of just one Lombardi Trophy.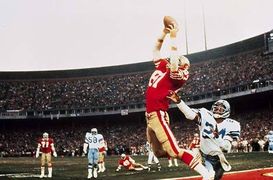 "The catch."
2. 1981 Season -- Cincinnati 27, San Diego 7/San Francisco 28, Dallas 27
The Skinny: And now for the most memorable pairing of Championship Sunday games, starting with the Freezer Bowl at Riverfront Stadium, where the Bengals and Chargers encountered stifling crosswinds and a wind-chill factor of minus-59 ... and ending with Joe Montana's game-winning pass to Dwight Clark to upset the Cowboys, aka The Catch game. Eight days prior to the AFC title game, San Diego outlasted Miami 41-38 in perhaps the greatest playoff game of the Super Bowl era, withstanding warm temperatures, high humidity and intense cramping (see Kellen Winslow) to trump the Fins. (Dolphins-Chargers also featured two 400-yard passers -- Dan Fouts/Don Strock.) For Dallas-San Francisco, this game marked the beginning of the 49ers' dynasty under Bill Walsh ... and Montana's reign as the most dominant quarterback of the 1980s.
3. 1967 Season -- Green Bay 21, Dallas 17/Oakland 40, Houston 7
The Skinny: Let's be honest. Oakland could have eked past Houston 3-2 in the AFL championship ... and this Sunday pairing still would have grabbed a top-5 finish -- thanks to The Ice Bowl, the Packers' most significant victory of all time and one that cemented Lambeau Field's status as an iconic sports venue. Who can forget the images of CBS announcers Ray Scott, Jack Buck and Frank Gifford standing on the sidelines before kickoff, half-heartedly pretending not to be affected by the minus-15 temperatures? Or Cowboys receiver and future Hall of Famer Bob Hayes running pass patterns with hands in pockets? Or the sight of Jerry Kramer executing the most famous block in NFL history -- enabling Bart Starr to win the game on a QB-sneak touchdown in the final seconds? The Ice Bowl eventually produced 14 Hall of Famers -- including coaches Vince Lombardi and Tom Landry and Cowboys GM Tex Schramm -- a list that curiously doesn't include Kramer, arguably the most celebrated offensive guard in all of pro football.
4. 2007 -- New England 21, San Diego 12/N.Y. Giants 23, Green Bay 20 (OT)
The Skinny: The first half of Championship Sunday brought to light two significant feats: Tom Brady and the Patriots becoming the first 18-0 club in NFL history ... and Chargers QB Philip Rivers earning Jack Youngblood-esque toughness points for playing the entire AFC title game just a week after suffering an ACL knee tear. The nightcap did wonders for the legacies of Eli Manning, Michael Strahan, Giants head coach Tom Coughlin and their transformation from underachievers to conquering heroes ... while giving Packers fans one unseemly snapshot of Brett Favre's last pass in green-and-gold -- in the form of a crucial overtime interception in Green Bay territory. NFL fans with a non-rooting interest also snapped an enduring photo from this classic -- Coughlin's frostbitten face on one of Lambeau's c-c-c-coldest days in recent memory.
5. 1995 -- Pittsburgh 20, Indianapolis 16/Dallas 38, Green Bay 27
The Skinny: Leave it to <strong>Jim Harbaugh, aka Captain Comeback in his playing days, to almost steal the spotlight from Troy Aikman, Emmitt Smith, Michael Irvin, Reggie White, Robert Brooks and Favre on this Championship Sunday. Had Colts receiver Aaron Bailey cleanly corralled Harbaugh's Hail Mary pass to end the AFC title game in Pittsburgh, it might have marked the second-greatest occurrence in postseason history -- right after Franco Harris's Immaculate Reception against Oakland in 1972. Instead, we're left with the amazing sight of Bailey losing full control of the Hail Mary pass at the last possible second, under a sea of Steelers defenders trying to jar the ball loose. For Packers-Cowboys, Favre and Aikman combined for 562 yards passing and five TDs ... with Smith, Irvin and Brooks amassing 372 total yards and seven TDs in one of the more entertaining championship bouts you'll ever see. For once, the actual game exceeded its preceding megahype.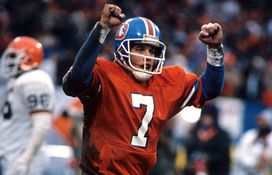 Despite winning two Super Bowls, John Elway may be remembered best for "The Drive."
6. 1986 -- Denver 23, Cleveland 20 (OT)/N.Y. Giants 17, Washington 0
The Skinny: We couldn't post a list of unforgettable Championship Sundays without a salute to John Elway's most legendary playoff appearance, via The Dri ve -- a 98-yard TD journey against the Browns to force overtime in the AFC title game. If there's been a more pressure-packed drive in NFL history -- where the opposing quarterback was deep in his own territory and hounded by inhospitable fans -- I can't think of it. Which brings us to the controversial kick in overtime: If anyone can produce hard video evidence that Rich Karlis's game-winning field goal actually sailed through the uprights ... please let me know. (HA!) For the New York-Washington game, NFL nation learned of the awesome power of Giants Stadium when near-Gale-force winds and one of the modern era's stingiest defenses join forces. In the Giants' two NFC playoff games that season, they outscored the 49ers and Redskins 66-3.
7. 1968 -- NY Jets 27, Oakland 23/Baltimore 34, Cleveland 0
The Skinny: Steelers and Vikings fans, circa 1974, might dispute this particular Championship Sunday ranking, given the Colts' road rout of the Browns in the NFL title game. But a closer look reveals the following: The Jets' thrilling comeback win over the Raiders stands as the most significant occurrence in AFL history ... giving Joe Namath the platform to make the most famous guarantee in sports. It also perpetuated the myth the Colts were an indestructible machine, worthy of being 20-point favorites in Super Bowl III and incapable of falling to a pass-happy club from a supposedly inferior football league. If Baltimore had to scrap and fight to beat Cleveland in the NFL title game ... perhaps the David v. Goliath buildup to the Super Bowl wouldn't have been so pronounced; and maybe, just maybe Namath doesn't get provoked into guaranteeing victory at some random banquet in Miami, four days prior to kickoff. (Strange but true: Miami Herald scribe Edwin Pope was the only writer to publish a story immediately off Namath's impromptu prediction.)
8. 2009 -- Indianapolis 30, N.Y. Jets 17/New Orleans 31, Minnesota 28 (OT)
The Skinny: This underrated Championship Sunday would have merited a higher ranking if the Jets hadn't buckled under the weight of newly minted expectations after rolling to an early 10-0 lead over the heavily favored Colts (not unlike the Jets' 10-0 halftime lead over the Broncos in the '98 AFC title game). But this Sunday garners its fame from the Vikings-Saints clash, where Favre (310 yards passing, 1 TD, 2 INTs) was one ill-advised, across-the-body interception away from leading Minnesota to its fifth Super Bowl. On this day, Drew Brees only threw for 197 yards; but his three TD passes were enough to set up the Saints for overtime ... and the subsequent game-winning drive immediately after the coin flip. Vikings fans will recall this game for Adrian Peterson's inexplicable fumbles and Favre's last-minute INT; but NFL execs will remember this one for being the impetus of revised scoring rules for overtime playoff games.
9. 2006 -- Chicago 39, New Orleans 14/Indianapolis 38, New England 34
The Skinny: Don't let the final score of Saints-Bears fool you. Heading into the fourth quarter, Chicago was clinging to an 18-14 lead and desperately seeking a way to control the New Orleans troika of Brees (354 yards passing, 2 TDs), RB Reggie Bush (151 total yards, 1 TD) and WR Marques Colston (5 catches, 63 yards, 1 TD) ... before pulling away with three late scores to seal the franchise's first Super Bowl berth in 21 years. The second game obviously takes the cake, though, with Peyton Manning orchestrating the greatest comeback in Championship Sunday history. Down 21-6 to New England, Indy rallied for 32 second-half points and broke the Colts' 36-year Super Bowl drought. Strange but true: Manning threw for 349 yards and one touchdown -- but no receivers or tailbacks caught his lone TD pass. That honor went to a defensive-tackle-turned-eligible-reciever-at-the-goal-line, former Patriot Dan Klecko.
10. 1974 -- Minnesota 14, L.A. Rams 10/Pittsburgh 24, Oakland 13
The Skinny: How's this for cool synergy? From 1972-77, the Raiders and Steelers met on the same field 10 times -- including four legendary playoff battles. And from 1973-79, the Rams and Vikings -- the NFL's second-best rivalry of the 1970s -- also played one another 10 times ... including the infamous Mud Bowl (January 1978). Going back to the 1974 season, both the Vikings and Steelers got regular-season revenge on Championship Sunday, with Minnesota capitalizing on five Rams turnovers in the NFC title game and Pittsburgh pulling off a road shocker in the AFC championship -- just a week after the Raiders ended the Dolphins' three-year reign as AFC champions in the iconic Sea Of Hands game ... or 'Super Bowl 8 1/2' to some in the media. In the Steelers' victory, rushers Rocky Bleier (123 total yards) and Franco Harris combined for 234 total yards and two touchdowns, while QB Terry Bradshaw completed only four passes to Hall of Famers Lynn Swann and John Stallworth. Over 70 seasons, this upset stands as the Steelers' sweetest road triumph.
Honorable Mention
1998 -- Falcons upend Vikings in OT thriller/Broncos overcome 10-0 deficit to beat Jets
1985 -- Bears blank Giants, notch second straight shutout in NFC playoffs/Pats topple Marino's Dolphins in 31-14 upset
1992 -- Bills sprint past Dolphins/Cowboys get 11-year revenge on 49ers, win NFC title at Candlestick
2001 -- Bledsoe relieves Brady, spurs Pats' upset of Steelers/Warner outduels McNabb in Rams' shootout win
1994 -- Chargers stifle Steelers at the goal line to win AFC crown/49ers cruise past Cowboys after blazing 21-0 start
1975 -- Steelers outlast Raiders on icy Three Rivers turf/Cowboys pummel Rams by 30 in L.A.
Jay Clemons can be reached, day or night, via Twitter.