September 23, 2010 -
National Football Post
Top 20 Senior Prospects
The National Football Post breaks down the top 20 senior prospects for the 2011 NFL draft.
1. CB Prince Amukamara: Nebraska (6-0, 200)
He's really improved his overall patience and technique as a press corner this year and has the type of footwork/balance to quickly close on the football. Can be effective in any type of coverage and has the makings of a high level starting corner at the next level.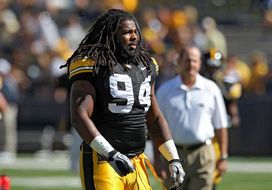 ICONClayborn has the ability to beat blocks in both the run and pass game.
2. DE Adrian Clayborn: Iowa (6-3, 286)
Lacks the kind of first step to consistently threaten the edge, but he's a guy who can win for you in both the run and pass game and has some of the most violent hands of any defensive lineman in the class.
3. DT Stephen Paea: Oregon State (6-2, 310)
An explosive, powerful interior lineman who can push the pocket inside and displays good suddenness on contact. Needs to do a better job finding the football once he gets up field, but should mature into a very solid starting interior lineman.
4. OT Derek Sherrod: Mississippi State (6-5, 305)
The best offensive tackle in the senior class. Needs to learn to keep his base down more off the edge. However, he possesses good range, is balanced and coordinated in space and is a much better run blocker than given credit for.
5. CB Curtis Brown: Texas (6-0, 180)
Possesses impressive balance and body control for a corner his size and has the fluidity to cleanly redirect and close on the football out of his breaks. Exhibits good ball skills down the field as well.
6. DE Pernell McPhee: Mississippi State (6-3, 278)
A unique athlete who seems to really be coming into his own this season. The game really seems to be slowing down for him, as he's doing a much better job using his hands to slip blocks and is much more than a push/pull guy at this stage.
7. OT Anthony Castonzo: Boston College (6-7, 308)
A four-year starter at a school which has had success sending offensive linemen to the next level. I don't think he's a potential blue-chip prospect at the position, but he's a guy you can win with on the blindside at the next level.
8. S DeAndre McDaniel: Clemson (6-0, 215)
Showcases impressive instincts, ball skills and coordination when asked to play in the centerfield type role. Lacks great straight-line speed, but has enough to certainly make plays on the football in an NFL secondary.
9. DL Cameron Heyward: Ohio State (6-5, 285)
Possesses a nice combination of size and power with the first step burst to be effective when lined up inside. I don't think he's a difference maker for you in the NFL, but he looks like a very solid and versatile three-down type player.
10. CB Jimmy Smith: Colorado (6-2, 205)
Another tall, lean corner who does a nice job using his hands and length to press off the line and possesses good balance in and out of his breaks.
11. OLB Von Miller: Texas A&M (6-2, 240)
A guy who I really like, but has struggled with an ankle injury during the early part of the year and needs to get back to 100 percent health ASAP to boost his stock.
12. DL Christian Ballard: Iowa (6-4, 298)
One of the most underrated defensive linemen in the draft. Guy possesses a great first step off the football inside, can be sudden on contact and offers some versatility as a base 4-3 DE or 3-4 five-technique as well.
13. OT Gabe Carimi: Wisconsin (6-7, 322)
He may not be athletic enough for the left tackle position. But you know you're getting a tough, physical right-sided body who can hold up on the edge and win for you at the point of attack.
14. OG Jason Pinkston: Pittsburgh (6-4, 308)
He isn't a left tackle prospect in my eyes because of his lacking range. But he can fire off the football low, create a real pop in the run game and has the short-area quickness to mirror in space inside.
15. OG Mike Pouncey: Florida (6-5, 312)
He's not quite as versatile or technically sound as his brother, but he still has the physical attributes to fire off the snap, create a push in the run game and mirror with consistency vs. the pass.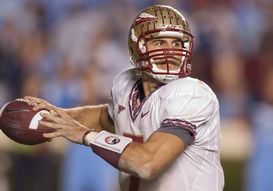 ICONPonder's intangibles makes him the nations top senior quarterback prospect.
16. QB Christian Ponder: Florida State (6-2, 220)
A smart, instinctive quarterback who is accurate with the football, anticipates routes well and is a good enough athlete to create with his feet. Lacks the physical skill set of some of the other top-tier quarterbacks, but will have a chance to win a starting job in the NFL because of his savvy, work ethic and intangibles.
17. QB Jake Locker: Washington (6-3, 230)
All the tools are there, but he isn't a winner, has struggled with consistency and has yet to live up to his skill set. A real boom or bust guy.
18. DT Jerrell Powe: Mississippi (6-2, 320)
Possesses a good first step for a guy his size and seems to have finally gotten his weight under control. A nice wide-bodied player who can be a threat inside, but passion and character issues could cause him to fall.
19. OG DeMarcus Love: Arkansas (6-5, 315)
I don't think he's a tackle in the NFL, but he did show well enough playing inside as an underclassman to make me believe that he could be a very good guard for an NFL team.
20. DL Allen Bailey: Miami (6-4, 288)
Has as much upside as any defensive lineman in the class. Improved his overall ability to anchor and play the run this year, but hasn't displayed much as a pass rusher when lined up on the outside. However, he does have the versatility to kick inside on passing downs.

Didn't make the cut…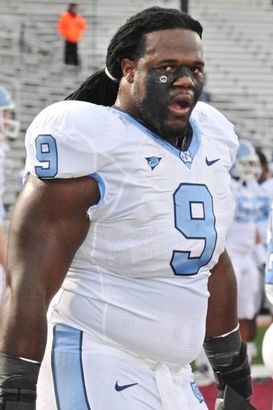 ICONAustin is a real boom or bust guy.
DT Marvin Austin: North Carolina (6-3, 310)
The first guy that would be removed from my draft board. He has all the talent in the world, but is immature and doesn't seem to have the mental make-up to ever live up to his potential.
OT Nate Solder: Colorado (6-8, 315)
A gifted athlete who has yet to put it all together. A real boom or bust guy at this stage.
RB DeMarco Murray: Oklahoma (6-1, 214)
He's performed well this year, but is so narrow through his hips and isn't a guy who can carry the load between the tackles. More of a dynamic sub-package option who isn't worth a top-tier pick on in my opinion.
LB Greg Jones: Michigan State (6-1, 235)
He should end up being a very solid player in the NFL, but nothing more than that.
DE Ryan Kerrigan: Purdue (6-4, 263)
I like the kid and get the Chris Long comparisons, but was Long worth the lofty draft pick?
OLB Bruce Carter: North Carolina (6-3, 230)
A nice size/speed player who should be able to nail down a starting role based on his physical abilities. There are some maturity question though.
NFL draft/college football questions? Get them answered at Wes.Bunting@nationalfootballpost.com
Follow me on Twitter: @WesBunting
Click here to win cash today playing fantasy football with the NFP and FanDuel.