April 17, 2012 -
National Football Post
Top 2nd Round Values
A look at which talented prospects could fall into round two…

DT Devon Still: Penn State (6-5, 310)
A tall, physically put together defensive lineman with good girth through the lower half, but has the frame to get even bigger. Possesses "plus" power and get off burst for his size, but is still learning how to put it all together. Has the ability to bend, as he at times keeps his base down and butt under him off the snap. And when he can gain leverage on contact the guy has the ability to consistently overwhelm at the point and dominate.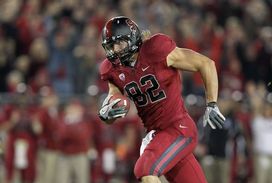 Fleener looks like a fringe first round prospect.
TE Coby Fleener: Stanford (6-6, 244)
An impressive pass catcher who can win both down the field and underneath vs. man coverage. Has the frame and flexibility to develop into a solid blocker as well and looks like a future starting caliber NFL TE.

WR Stephen Hill: Georgia Tech (6-5, 206)
Has a unique skill set, can pluck off his frame, track the football and is the next big time talent from the Georgia Tech program. Is going to need some time to develop, but can come in and track football vertically early on. Has a lot of upside to his game and skill set says he's an NFL starter.

OT Mike Adams: Ohio State (6-8, 320)
He's a talented kid with a big frame, long arms and natural movement skills. He can bend and if he can put it all together and continue to improve his footwork he could certainly mature into a starting caliber left tackle in the NFL.

OC Peter Konz: Wisconsin (6-5, 315)
For a taller center showcases impressive flexibility, as he typically gains leverage on contact and uses his length to gain proper hand placement. Has some limitations because of his height and will allow defenders to get under him at times. However, for the most part is able to quickly re-set his hands, sink his hips and keep the inside of the pocket clean in pass protection.

DT Jerel Worthy: Michigan State (6-3, 310)
A talented kid with a thick frame, "plus" get off burst and snap awareness to his game. However, doesn't shed blocks well when engaged and lacks ideal anchor ability inside. Looks like a one-gap type lineman only who could give solid reps at both nose and three-technique in a 43 front. But is going to need some time before he's ready to start.

CB Janoris Jenkins: North Alabama (5-10, 182)
If he can put it all together off the field, he's got the ability to develop into a very good cover man in the NFL and despite his size he's going to be a really tough guy to separate from in just about any scheme he plays in.