November 07, 2012 -
National Football Post
Top 5 Interior Offensive Linemen Draft prospects
1. Chance Warmack Guard Senior Alabama
6023 325 5.25 Projected first round pick
Strapping and aggressive, Warmack is rare amongst college linemen in his ability to physically dominate defensive linemen. Setting quickly and getting good hand placement allows him to lock-out and pin power rushers on line of scrimmage with surprising ease. Blocking with an attacking style only increases Warmack's playing strength and helps him to drive defensive lineman down the line on side/angle blocks to collapse the entire defensive line to open a big hole. Unlike most powerful guards, Warmack moves his feet well to adjust in pass pro and block effectively out in space. His physical tools, competitiveness and aggressive blocking style will lead to him being a first round pick and likely the first interior linemen drafted.
2. Jonathan Cooper Guard Senior North Carolina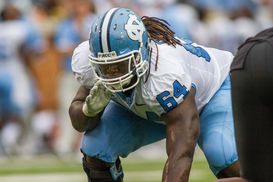 US PRESSWIRENorth Carolina guard Jonathan Cooper in stance and about to block.

6030 295 5.15 Projected first round pick
While not as physically dominant as Warmack, Cooper has played drastically better in 2012 to put him in position to be a first round pick. Nimble and light on feet, Cooper can slide well side to side to adjust to quick change of direction pass rush moves. Staying over feet and maintaining base allows him to work well with other linemen to switch off and handle defensive line stunts. Additionally, his athleticism shows up in his ability to block effectively out in space. Even though he does not drive man down the line consistently on in-line run blocks, he does a good job of making contact quickly and can turn and seal man out of the play to open holes up.
3. Barrett Jones Center Senior Alabama
6044 300 5.41 Projected second round pick
Having played tackle nearly his entire career prior to 2012, Jones has impressed playing center this season. A smart player, he has not missed a beat having to make the protections calls/adjustments while still maintaining a high level of play. Consistently quick to set-up with good base and "getting a good fit," Jones is able to stop explosive off the ball pass rushers well and holds ground vs power rushers. Jones' is an extremely aggressive in-line run blocker who attacks man quickly, stays over feet and consistently drives/seals man out of the play. Although he is not likely to be a first round pick, Jones could slip into the late part of the first round because of his great intangibles and production playing in the SEC.
4. Khaled Holmes Center Senior USC
6031 308 5.20 Projected third round pick
Battling through a nagging knee injury has led to a dip in Holmes' performance in 2012, but scouts we have spoken to feel confident that with an off-season to get healthy he will get back to his pre-injury form for the 2013 NFL season. Not a premier athlete, but rather a solid, smooth one who keeps his knees bent and stays over his feet, Holmes can maintain blocks well. His experience in a pro-style offense is clear as he makes it look easy calling protections and settling the rest of the linemen correctly. To be a third round pick Holmes will need to check out physically at the Combine to ease concerns that his knee injury will be a lingering problem during his career.
5. Hugh Thornton Guard / Tackle Senior Illinois
6035 304 5.25 Projected third round pick
Having played guard until 2012, Thornton's play at left tackle this season has helped him prove his athleticism to NFL scouts. Thornton has surprised with his ability to pull and lead block effectively on outside runs and to get through to the second level to block linebackers well. Although he is not a "fire-off" the ball in-line run blocker, he does lock up man quickly and has the playing strength to turn man out of the play. Heavy hands and good hand placement enable Thornton to lock-out in pass pro and keep man pinned on the line. He can slide easily to adjust to different pass rush moves and to pick-up delayed blitzes. Thornton's strength, athleticism and hand-use give him the tools to start at center or guard and do a solid job as a backup/swing tackle, which increases his draft value.
Email Russ at Russelllande@yahoo.com and Follow Russ on Twitter @RUSSLANDE