October 03, 2012 -
National Football Post
Top 5 Linebackers in the 2013 NFL Draft
With so many NFL teams playing 34 defenses and passing become the focal point of NFL offenses; the role of linebacker has expanded greatly. This has led to the value of linebackers who excel rushing the passer or in coverage going up dramatically. These same coverage responsibilities have led to the value of two down linebackers falling drastically. Below we take a look at the five best linebackers in the country that could be part of the 2013 NFL Draft.
1. Jarvis Jones Outside Linebacker Junior Georgia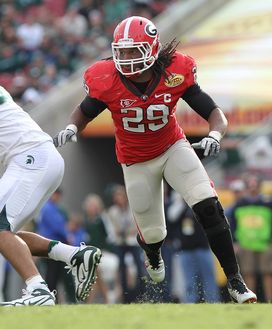 US PRESSWIREJarvis Jones identifies the play.
6030 (Estimated) 241 (Estimated) 4.65 (Estimated) Projected High 1st Round Pick
Jones rare ability to pressure the quarterback of the edge has him in position to be a top ten pick in the 2013 NFL Draft. Numerous NFL scouts have told us that Jones' first step explosiveness, use of hands and ability to defeat pass blocks reminds them in many ways of current Broncos' pass rusher Von Miller. Although Jones plays a little more upright than Miller, he is more a productive run defender than Von. While Jones fits best as an outside linebacker in a 34 defense, his edge pass rush ability would make him valuable in a 43 defense as either an under-sized defensive end or an outside linebacker who puts a "puts a hand in the ground" and rushes the passer in passing situations. At Georgia, Jones has become the player USC hoped they were getting when he went there out of high school, but after his first year there he transferred to Georgia.
2. Manti Te'o Inside Linebacker Junior Notre Dame
6020 (Estimated) 255 (Estimated) 4.65 (Estimated) Projected 1st Round Pick
In his junior season, Te'o has played more aggressively which has led to him making many game changing plays. A strong and physical linebacker with the strength to take on and shed blocks to make plays against the run, he has impressed with his outstanding coverage ability this season. Quick and agile in pass drops, fast enough to run with any tight ends in man coverage with the ball skills to intercept and break-up passes consistently Te'o coverage skills give him great value in today's NFL. Overall, Te'o is the most versatile linebacker in the country and could start at any linebacker position in the NFL, but would be best as a middle linebacker in a 43 scheme or an inside linebacker in a 34 defense.
3. Alec Ogletree Inside Linebacker Junior
6030 (Estimated) 232 (Estimated) 4.75 (Estimated) Projected 1st Round Pick
In his first game in 2012 against Tennessee, after missing the first four games due to a suspension, Ogletree displayed the rare speed and closing ability to make big plays all over the field and led the team with 14 tackles. Similar to Te'o, Ogletree is a three down linebacker who consistently tracks down plays in pursuit and is productive in pass coverage. Few college players have Ogletree's explosive burst to the ball to finish plays with hard, violent hits. As long as teams feel comfortable that Ogletree's off field issues will not be an issue, he will be a first round pick if he comes out early for the 2013 Draft.
4. Michael Mauti Outside Linebacker Senior Penn State
6010 (Estimated) 235 (Estimated) 4.70 (Estimated) Projected 2nd Rd. Pick
Once again playing at a high level, Mauti has been highly productive when healthy the last three seasons. However, after tearing the ACL in his right knee and missing the 2009 season and then tearing the ACL in his left knee in the fourth game of the 2011 season, much of Mauti's NFL future is dependent on his ability to stay healthy. An instinctive linebacker who reads and reacts to the play quickly combined with his playing speed gives Mauti excellent range to chase plays down in pursuit. As he showed making two interceptions against Illinois, Mauti moves extremely well in coverage, reads the receivers and pass quickly and has the ball skills to make plays on the ball. If Mauti checks out physically he should be a second round pick at worst.
5. Brandon Jenkins Outside Linebacker Senior Florida State
6030 (Verified) 257 (Verified) 4.75 (Estimated) Projected 2nd / 3rd Round Pick
Whether Jenkins redshirts and returns to Florida State for the 2013 season or enters the 2013 NFL Draft is not yet known, but I believe that if his foot injury checks out he could still be a second round pick. Having played mostly defensive end in Florida State's defensive scheme, Jenkins has the quickness off the ball, hand use and flexibility to consistently defeat pass block and the closing burst to finish sack. Additionally, his elite playing speed for a 250+ pound defender gives him sideline range vs. the run and helps him to make blow up tackles. He has the agility and balance to move through traffic with ease when chasing in pursuit and the long arms and playing strength to take on and defeat run blocks to make tackles on running plays at him. If Jenkins' stays in the 2013 NFL Draft and his foot injury checks out, he will be a second or third round pick.
Email Russ at Russelllande@yahoo.com and Follow Russ on Twitter @RUSSLANDE