November 28, 2012 -
National Football Post
Top 5 WR Prospects for the 2013 NFL Draft
Nearly twenty years ago the NFL began making the move from a run first league to a pass first league. Thus began the constant search for impact receivers. While no team would get rid of the Panthers' Steve Smith, there is little doubt that NFL teams prefer and are always searching for big receivers with the speed and athleticism to make game changing plays. There is no question that two or three of the receivers listed below will be first round picks in 2013, but the best receiver in the nation is USC's Marquise Lee who is not on this list because he is a true sophomore who cannot come out early for the Draft (I believe he will challenge to be the first receiver taken #1 overall since Keyshawn Johnson in the 2014 NFL Draft). Below is a breakdown of the top five receivers, who could be in the 2013 NFL Draft, in the country as of today.
1. Tavon Austin Senior West Virginia
5083 173 4.35 E Projected first round pick
As quarterback Geno Smith was getting the attention of the nation during West Virginia's incredible start to the season, NFL scouts were falling in love with Austin. NFL teams definitely prefer big receivers as there is concerned about the durability of short/small receivers and whether they can win vs. big cornerbacks. However, in Austin's case scouts are looking the other way because few receivers in the last decade have shown the level of acceleration, playing speed and game changing open field running ability that he has. No doubt Austin will need to improve his strength to fight through the best cornerback jams, but his ability to change directions and explode in the other direction will allow him to beat most jams. He is consistently able to get separation from man coverage because of his explosiveness out of his cuts. His explosive first step up the field and dynamic open field running ability make him a legit touchdown threat on every catch and kickoff return. Do not be shocked when Austin destroys the Combine and vaults into the rarefied air of a top ten pick for a receiver under 5-9.
2. Keenan Allen Junior California
6030 E 210 E 4.40 E Projected first round pick
Whether Allen is able to workout at 100% prior to the Draft is unknown after he suffered a torn PCL late
in California's 2012 season, but he has shown enough on film to still warrant a first round grade. Blessed with a rare combination of size and sprinter's speed, Allen could be a big mover in the spring if he gets healthy enough to workout. Quick to get his head and hands around, he consistently plucks the ball, gets it tucked away and starts up the field fast after the catch. Allen has shown the elusiveness to make tacklers miss out in space, the speed to out-run angles and the strength to run through arm/grab tackles, which makes him the complete package when he has the ball in his hands.
3. Robert Woods Junior USC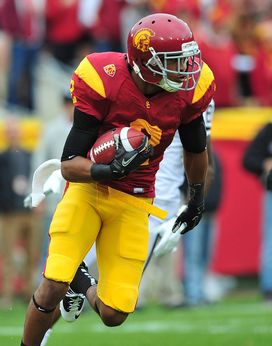 US PRESSWIREUSC's Robert Woods runs after the catch.

6010 E 190 E 4.55 E Projected first / second round pick
While Austin's strength is his ability to change games with his speed, Woods is pretty much the opposite as he produces at a high level because of his size, sharp routes and rare hands. Woods has made a big impact since his freshmen season and although he has been out-shined by teammate Marquise Lee, I am confident he will be a productive starting receiver at the next level. His long strides hide his foot quickness and let him accelerate to full speed quicker than expected. Disguising his routes until the break point allows him to turn cornerback's hips consistently. Making highlight reel catches has become the norm for Woods and with his height, long arms, jumping ability and ball skills he will make an immediate impact in the red-zone in the NFL. Even though he is not going to set any stopwatch records with his 40 time, Woods will run faster than expected because he is an under-rated athlete.
4. Justin Hunter Junior Tennessee
6040 E 200 E 4.45 E Projected second round pick
Although his skill set is different, Hunter's draft situation reminds me a lot of long-time NFL receiver Lee Evans. Hunter looked like a superstar receiver in 2011 with the potential to challenge to be a top five pick in the 2013 Draft, but then he tore the ACL in his left Knee late in the 2011 season. While he has returned to the field in 2012, he has only shown flashes of his pre-injury form and if graded just off his play in 2012 he would likely be a second or third round pick. However, I have a feeling that come February (Combine Time) Hunter will be close to 100% as he will be 15 months since the injury and surgery and will work out like a star in Indianapolis. This will lead to an NFL team gambling that he will be the player he was in 2011 when he gets to the NFL. Prior to his injury, Hunter reminded me a great deal of Randy Moss with his combination of height, long arms, hands and elite speed, which is why I believe he can be an impact receiver in the NFL if he gets back to his pre-injury level of play.
5. Aaron Dobson Senior Marshall
6031 200 4.50 Projected second round pick
A favorite of scouts coming into the season, Dobson's production in 2012 was greatly hindered by the quarterback struggles at Marshall and defenses completely focused on stopping him. With the height that NFL teams love, Dobson has uncommon speed once he gets to full speed to get separation on deep routes and stretch the field. While it seems effortless for him to make incredible catches, he will at times let the ball get into his body, ends up fighting the ball and drops too many passes he should catch. Dobson has relied primarily on his size and athleticism at Marshall as he was not asked to run a variety of routes, but to carry over his production to the NFL he will need to prove he can run the entire route tree effectively. If Dobson steps up at the Senior Bowl and the Combine he could very well work his way to the top of the second round.
Email Russ at Russelllande@yahoo.com and Follow Russ on Twitter @RUSSLANDE