August 24, 2011 -
National Football Post
Top ACC senior prospects: Defense
A preseason look at the top senior prospects the ACC has to offer on the defensive side of the ball.
1. DE Quinton Coples: North Carolina (6-6, 278)
Can be as good as he wants to be in the NFL. The game comes very easy to him and he can be dominant in the NFL if he learns to use his hands/length better to slip blocks in the pass game, but with more time I expect that aspect of his game to improve. The sky is the limit for him.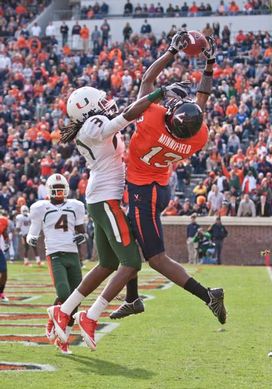 ICONMinnifield knows how to make plays on the football.
2. DT Brandon Thompson: Clemson (6-2, 310)
A prospect who should be able to come in and win inside vs. the run game early on in his NFL career. Looks a bit limited as a pass rusher, but will be able to push the pocket and projects as a starting caliber 43 nose inside.
3. CB Chase Minnifield: Virginia (6-0, 188)
A talented corner who can bend, re-direct, maintain balance out of his breaks and make plays on the football. Improved as the year went on in 2010 and looks like one of the more NFL ready corners in this year's draft. Should be able to start in just about any scheme.
4. OLB Zach Brown: North Carolina (6-2, 230)
A run and hit backer with impressive athleticism and range. Possesses solid instincts and is a better read and react linebacker than given credit for, but is still not elite in that area. Nevertheless, looks like a starting caliber 43 weak side guy who would be ideal in a cover two scheme.
5. DT Kaleb Ramsey: Boston College (6-3, 302)
A strong kid who plays low, uses his long arms well and can routinely overpower on contact. Isn't ever going to me an impact pass rusher, but can push the pocket and has some two gap ability as a 43 tackle. More of a 43 nose but is versatile enough to see reps at a number of spots in either a 43 or 34 front.
Follow me on twitter: @WesBunting