August 22, 2011 -
Barry Dorey
Top ACC senior prospects: Offense
A preseason look at the top senior prospects the ACC has to offer on the offensive side of the ball.
1. OT Zebrie Sanders: Florida Stat (6-5, 307)
A natural athlete who can bend and is coordinated/patient into contact. Possesses a good amount of upside as well and looks like a starter on either side of the O-line at the next level.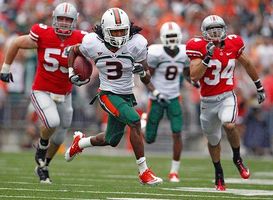 ICONBenjamin knows how to run away from a defense.
2. OT Andrew Datko: Florida State (6-6, 315)
Has some technique work to do in pass protection, but is a gifted athlete who can bend, re-direct and block in space. Looks like an NFL caliber starting left tackle, but might need a year to adjust and get stronger. Is a similar, yet better prospect in my mind than Boston College's Anthony Castonzo.
3. WR Dwight Jones: North Carolina (6-4, 225)
Really came into his own during the second half as the year. Runs well, accelerates quickly for a big receiver and possesses natural fluidity to his game as well. Needs to improve as a route runner, but the talent is there for this guy to be a play making type starting wide out in the NFL.

4. WR Travis Benjamin: Miami (5-10, 170)
A typical Miami type athlete who has all the tools needs to make plays at the next level. Has a little DeSean Jackson/Titus Young to his game and if he continues to mature could end up playing a similar type role at the next level.
5. WR Jarrett Boykin: Virginia Tech (6-2, 218)
Isn't real explosive off the line, but plays quicker down the field, can get off press, separate and go get the football. Also, will be able to make plays both inside and out at the next level and should be able to earn playing time at both spots early on in his NFL career.
Follow me on twitter: @WesBunting