August 20, 2011 -
National Football Post
Top Big 12 senior prospects: Defense
A preseason look at the top senior prospects the Big 12 has to offer on the defensive side of the ball.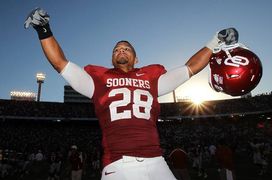 ICONLewis could be a day one NFL starter.
1. OLB Travis Lewis: Oklahoma (6-2, 233)
He's a bit undersized and doesn't tackle as well as you would like inside the box. However, he's a good run and hit backer who plays the run well and will be able to make plays vs. the pass game in the NFL. Looks like a day one starter to me as a 43 backer, either on the weak side or possibly in the middle.
2. DT Kheeston Randall: Texas (6-5, 295)
Is an impressive bender for his size with the skill set to start as either a 34 DE or 43 one gaping tackle. Could develop into an impact defensive lineman if he works at it.
3. LB Emmanuel Acho: Texas (6-2, 240)
Isn't a dynamic straight-line athlete, but plays faster because of instincts. Is a good tackler, can shed blocks and plays stronger than his frame would indicate. Has the versatility to play a number of spots in a 4-3 scheme or get some looks inside in a 34. Looks like a future starter in the NFL either way.
4. CB Jamell Fleming: Oklahoma (5-11, 191)
He's a balanced, coordinated kid who keeps his feet under him when changing directions and can turn and run. Doesn't give up much separation, knows how to make plays on the football and if he can improve as a tackler looks like a guy who warrants a starting job in the NFL down the line.
5. CB Coryell Judie: Texas A&M (5-11, 188)
He's a naturally gifted athlete with good range and great ball skills. Displays enough fluidity and balance to develop as a man-to-man corner, but looks ideally suited for a cover two type role at this stage that allows him to attack the football and create turnovers. An eventual starter in that type of scheme.
6. S Markelle Martin: Oklahoma State (6-0, 198)
A gifted athlete with a good burst and range in the deep half. However, wastes motion out of his breaks and isn't a very good open field tackler. Possesses slightly above-average instincts, but will make more plays on the football when he tightens up his footwork. A potential starter only at this stage because of his intriguing athleticism.
7. OLB Keenan Robinson: Texas (6-3, 238)
An explosive kid with some natural burst to his game. Isn't overly instinctive and doesn't take on blocks overly well, but is a good fit in more of a run and hit scheme because he possesses very good natural range. A potential starter in the NFL.
8. CB Leonard Johnson: Iowa State (5-10, 195)
A well-built kid, lacks ideal height, but plays fast and I like his footwork and balance. Isn't a dynamic athlete, but can play some press and off coverage and looks capable of playing both on the outside and in the slot at the next level.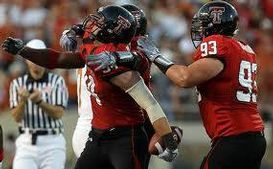 ICONSmith has an real passion for the game.
9. DE Scott Smith: Texas Tech (6-6, 256)
For his size he has an impressive get off burst, can bend and fire off the ball low. Might need to do some growing up, but if he puts it together could be poised for a big jump up draft boards.
10. DT Dominique Hamilton: Missouri (6-5, 305)
Plays the run much stronger than his frame would indicate. He's got a burst off the snap, plays with leverage and extends his long arms. Has the frame to add 15/20 pounds and could get some real looks as a 34 nose or even a five-technique if he stays at 305. Either way if he can stay healthy, looks like an intriguing 34 prospect because of his ability to win vs. the run.
Follow me on twitter: @WesBunting