August 19, 2011 -
Barry Dorey
Top Big 12 senior prospects: Offense
A preseason look at the top senior prospects the Big 12 has to offer on the offensive side of the ball.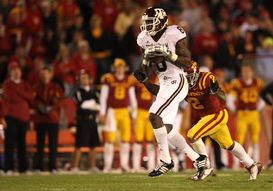 ICONFuller has the size to win one-on-one.
1. WR Jeff Fuller: Texas A&M (6-4, 215)
An NFL ready receiver who should develop into a very capable number one threat at the next level.
2. OT Levy Adcock: Oklahoma State (6-5, 322)
Needs to clean up his footwork in pass protection, but he's coordinated, can bend and should improve with time. Looks like a guy who is ideally suited to play right tackle, but I could see him being effective as a guard or left tackle as well. Should be able to start at a number of spots early on.
3. QB Ryan Tannehill: Texas A&M (6-4, 220)
He's smart, athletic, can make all the throws and the team really responded to him. His flaws are correctable and it's crazy to think where this guy could be in five years with more experience and coaching. A potential franchise quarterback in my mind.
4. TE Michael Egnew: Missouri (6-6, 245)
Has a big frame and the skill set to learn to play with his hand on the ground, but is going to need time. However, can come in from day one and be used as an "off the line Y" and create miss matches in the pass game.
5. RB Cyrus Gray: Texas A&M (5-10, 200)
An instinctive, well put together back with natural running skills inside. Isn't ever going to be a cowbell at the next level and isn't overly dynamic in the open field. But can certainly be productive in a two back system in the NFL.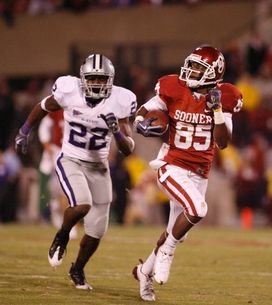 ICONBroyles can create with the ball in his hands.
6. WR Ryan Broyles: Oklahoma (5-11, 187)
Isn't a legit number one type wide out and isn't a guy who I would even play on the outside routinely in the NFL. However, demonstrates the polish and quickness needed to separate underneath and should be a solid contributor early inside for an NFL offense.
7. OL Kelechi Osemele: Iowa State (6-5, 354)
A big, thick kid with natural strength, athleticism and can bend. However, looks better suited to kick inside to guard where he can play in tighter quarters and focus on his technique more so than worrying about speed off the edge.
8. QB Brandon Weeden: Oklahoma State (6-4 218)
His age will likely keep him from going as early in the draft as his talents deserve. But there isn't a throw this guy can't make and he has the skill set and mental make-up to mature into a potential starter with some time.
9. OT Manase Foketi: Kansas State (6-5, 305)
Raw, but is a good athlete who can bend, stays compact with his footwork and possesses natural lateral quickness. Needs some time and might be better suited to play inside, but the upside is there for this guy to move up draft boards in 2011.
10. WR Kendall Wright: Baylor (5-10, 195)
A speedy slot guy who is more fast than quick. Can make plays down the field and get on top of corners quickly, but seems more like a vertical inside route runner. Good fit for a team like the Eagles who love to run those deep-crossing patterns.
Follow me on twitter: @WesBunting