August 27, 2011 -
Barry Dorey
Top Big East senior prospects: Defense
A preseason look at the top senior prospects the Big East has to offer on the defensive side of the ball.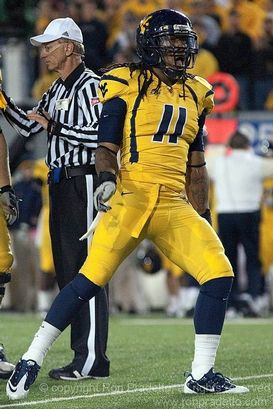 ICONIrvin has some Von Miller type qualities.
1. DE Bruce Irvin: West Virginia (6-2, 245)
A similar type athlete to Von Miller off the edge, but might be a little more natural as a pass rusher to be honest. Looks like an impact caliber kid as a 34-rush guy in the NFL, if he can continue to keep himself clean off the field. However, plays hungry and looks like he's out to prove people wrong.
2. DE Brandon Lindsey: Pittsburgh (6-2, 250)
A good athlete with a strong frame who knows how to reach the quarterback in a number of ways. Has some upside and looks ideally suited as a 34 OLB at the next level with a starting caliber skill set.
3. DT Kendall Reyes: Connecticut (6-4, 299)
A strong kid with a good amount of athletic upside. Isn't the kind of pass rusher you want as a three technique. However, looks like a potential starter as a one gap nose and if he improves his hands, has the anchor and skill set to play as a 34 DE as well. Lot of natural talent and untapped potential to his game.
<strong>4. DE Julian Miller: West Virginia (6-3, 265)
He's a good looking kid with some NFL quality athletic traits, but needs to learn to play lower as most of the plays he makes comes after his initial surge.
5. CB Keith Tandy: West Virginia (5-10, 198)
Combines his good athletic ability with a strong frame, natural ball skills and smooth turn and run ability. At times will struggle to find the football in man and is raw with his footwork. But, has the talent to warrant a pick as a potential inside zone cover man.
Follow me on twitter: @WesBunting