August 26, 2011 -
Barry Dorey
Top Big East senior prospects: Offense
A preseason look at the top senior prospects the Big East has to offer on the offensive side of the ball.
1. OG Lucas Nix: Pittsburgh (6-5, 310)
A good athlete for the position who can win in the pass game and seal lanes inside as a run blocker as well. Has some upside as a power player moving opposing linemen off the ball and looks like a capable starter in the NFL.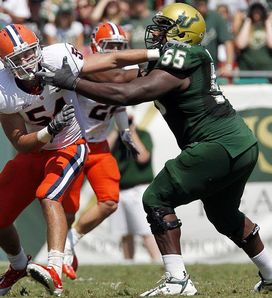 ICONWarren has the base to anchor inside.
2. RB Isaiah Pead: Cincinnati (5-11, 200)
Doesn't play quite like the type of dynamic athlete many make him out to be. But, accelerates quickly and knows how to get into the second level. Nevertheless, looks more like a reserve than potential starter who will be worked into a rotation.
3. OG Desmond Wynn: Rutgers (6-5, 295)
A big, coordinated guard prospect who holds up well in the pass game and can seal inside vs. the run. If he checks out medically has the skill set to fight for playing time in years 2/3 of his NFL career.
4. TE Josh Chichester: Louisville (6-8, 240)
A tall, long armed strider who can run vertical routes, track the football from the inside and come down with the catch. However, looks like a tall H-back type only who is more of a one trick pony, limiting his upside.
5. OG Jeremiah Warren: South Florida (6-4, 327)
A physically built lineman with natural athleticism/coordination for his size. Is a bit raw as a run blocker, but has the skill set to fight for playing time at the next level with some development.
Follow me on twitter: @WesBunting