August 17, 2011 -
Barry Dorey
Top Big Ten senior prospects: Defense
A preseason look at the top senior prospects the Big Ten has to offer on the defensive side of the ball.
1. LB Lavonte David: Nebraska (6-1, 220)
He's undersized, but really instinctive. Might be limited to more of a cover two type scheme only at the next level, but looks like a starting caliber weak side guy to me early in his NFL career.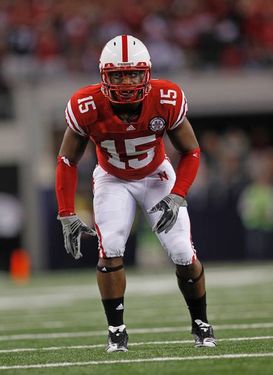 ICONDennard has the skill set to play all over an NFL secondary.
2. CB Alfonzo Dennard: Nebraska (5-10, 205)
He's strong/feisty, can press off the line and turn and run. Needs to clean up some technical flaws both in press and off the line, which hinders his balance. But can be a guy who could start both on the outside and play in the slot at the next level.
3. DT Devon Still: Penn State (6-4, 311)
I can see why some talent evaluators have this guy ranked so high because the talent is most definitely there. However, I have some concerns about his motor and overall passion for the game that make me think he might not ever live up to that gifted physical skill set. Can be as good as he wants in the NFL and is capable of playing at a number of spots in both a 43 and 34 front. But, needs to put it all together.
4. DT Mike Martin: Michigan (6-1, 300)
The kind of prospect you don't want to bet against. Is limited and doesn't have the kind of frame to get all that bigger, but I can see him working his way into a rotation as a 43 nose in the NFL and being the kind of guy coaches love.
5. DL Jared Crick: Nebraska (6-6, 285)
Isn't a guy who can hold up vs. the run inside in the NFL and isn't a dynamic pass rusher either. However, as a base DE I can see him finding a home with some versatility on 3rd down. Looks more like a rotational NFL lineman to me and potential starter only.
6. CB Shaun Prater: Iowa (5-11, 180)
Is still developing his feel in zone and needs to add more weight. However, he's coordinated in his drop and out of his breaks. Has a chance to start in the NFL, more of a zone corner though.
7. FS Trenton Robinson: Michigan State (5-10, 195)
Not a dynamic athlete in any area of the game, but does everything at a solid NFL caliber level. Looks like a guy who can contribute early on a defense and special teams and mature into a starter with time.
8. DT Mike Daniels: Iowa (6-1, 275)
A typical undersized/overachieving Iowa DT who is going to make a lot of plays inside this year as a senior. He works hard, plays low and is violent to shed. Has a chance if he adds some weight and keeps his athleticism to make a roster and work his way into a rotation.
9. OLB Nathan Williams: Ohio State (6-3, 252)
Isn't the type of natural pass rusher many make him out to be. However, he's a savvy blitzer who finds the football well in all areas of the game and could get looks as either a 43 SAM or a 34 OLB. Looks more like a reserve physically, but he's the type of overachiever who could fight for playing time down the line.
10. FS Aaron Henry: Wisconsin (6-0, 211)
A good-sized kid with some natural cover skills and range, but is still learning the mental nuances of the game. It will be interesting to see how he develops during his second seasons as a safety. As of now his skill set says potential starter, his overall instincts says special teams guy. Therefore, I would place him somewhere in the middle as a prospect.
Follow me on twitter: @WesBunting