August 15, 2011 -
National Football Post
Top Big Ten senior prospects: Offense
A preseason look at the top senior prospects the Big Ten has to offer on the offensive side of the ball.
1. OC Mike Brewster: Ohio State (6-4, 305)
A seasoned starter who displays good size, hand placement and bend for the position. Looks like at worst, a dirty starter in the NFL that you can win with.
2. OG Kevin Zeitler: Wisconsin (6-4, 320)
A tough, strong in-line guy who you can run behind and also has some coordination on the move. Not as effective in the pass game, but can mature into an average NFL pass blocker if he learns to get off the ball more consistently. Looks like a gritty type starter early on in his NFL career.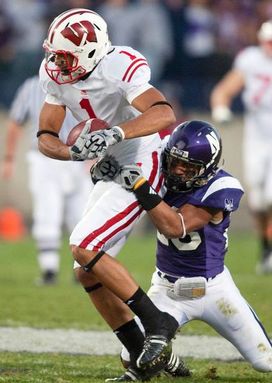 ICONToon looks like a solid contributing NFL receiver.
3. WR Nick Toon: Wisconsin (6-2, 215)
I like his size, short area quickness and ability to adjust to the football. Isn't a guy who is going to create consistently down the field. But, knows how to gain enough separation, pluck and create after the catch. Looks like a prospect who can play on the outside as a legit number two wide out running the inward breaking routes, just isn't ever going to be a dynamic playmaker.
4. OT Markus Zusevics: Iowa (6-5, 300)
A "plus" run blocker who more than held his own in the pass game. Quickly gets off the football, generates a snap into contact and improved his pad level sitting into his stance as the year went on. Looks like a starting caliber offensive lineman –either at guard or tackle- in the NFL with a year or two of seasoning.
5. OT Mike Adams: Ohio State (6-6, 310)
He's a talented kid with a big frame, long arms and natural movement skills. He can bend, just doesn't do it consistently and if he can put it all together and clean up his footwork he could certainly mature into a starting caliber tackle, but is going to need some development.
6. QB Kirk Cousins: Michigan State (6-3, 205)
A solid athlete who isn't overly impressive physically, but he has enough to make it in the NFL. Needs to take that next step in his understanding of the offense this year and cut down on the mental errors. However, he's a good kid, a hard worker and has some real similar qualities to some of the senior quarterbacks who came off the board early in 2011 (Ponder/Dalton). Nevertheless, his struggles with pressure could hold him back from ever becoming an NFL starter.
7. C David Molk: Michigan (6-2, 288)
A perfect fit for Michigan's run first spread where he consistently played to his strengths. However, he's an overachiever who looks like a potential starter in a zone scheme only in my view.
8. RB Dan Herron: Ohio State (5-10, 212)
Isn't overly dynamic in any athletic or physical aspect. However, he runs with a strong base, has impressive short area quickness and a natural feel between the tackles. Can certainly contribute early on in his NFL career in a rotation and can create for himself if he has to.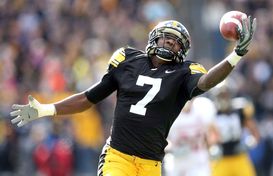 ICONMcNutt knows how to make plays on the football.
9. WR Marvin McNutt: Iowa (6-4, 215)
A tall, long armed receiver who can win off the line and use his big frame to box and go get the football. A big third down target who might not be dynamic enough to win on the outside as a starter, but can be used as a situation guy inside and move the chains.
10. WR DeVier Posey: Ohio State (6-1, 205)
Possesses some natural talent and can make plays down the field and track the football. However, he's raw as a route runner, puts the ball on the ground too often and will have a tough time vs. press in the NFL. Doesn't look like much more than an occasional big play threat who needs to work inside at the next level.
Follow me on twitter: @WesBunting