April 07, 2011 -
National Football Post
Top five "BOOM" or "BUST" prospects
The NFP's definition of a "boom" or "bust" prospect is…
A clean player who is inconsistent in his play due to character, technique, alertness or competitiveness… Has all the physical tools needed to become a starter… If he overcomes his deficiencies he will be a star in the league… If he doesn't he will be a complete failure — There is NO middle ground!
Pretty much meaning, if the prospect puts it all together he will be one of the NFL's best, if not, he could be out of the league pretty quickly.
With that being said, let's look at this year's top "boom" or "bust" prospects.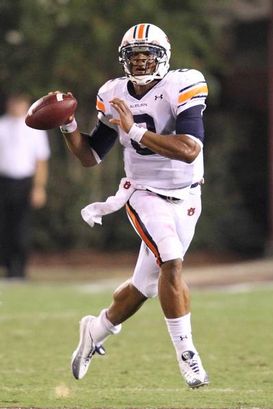 ICONNewton can be as good as he wants to be in the NFL.
1. QB Cameron Newton: Auburn
I truly believe that if Newton is able to put it all together he has the ability to be the BEST quarterback in the NFL for a long time. There isn't anything this guy can't do physically. The key for Newton is figuring out if he's willing to win football games for you with his hard work, preparation and study as opposed to just his physical skill set.
2. DL Phil Taylor: Baylor
There aren't many guys in the NFL who possess the kind of physical traits that Taylor has. He's a strong anchor player, can dominate on contact and displays some impressive short area quickness for his size. However, there are some character concerns attached to his name and keeping his weight under control is the one key to him maturing into a successful NFL lineman.
3. QB Ryan Mallett: Arkansas
No one has ever doubted the guy's talent. When watching Mallett on tape he's capable of making throws 90% of quarterbacks in the NFL wouldn't even attempt. However, he has some off the field/attitude concerns that a lot of NFL decision makers are nervous about, and fear could keep him from ever reaching his ridiculous potential at the next level.
4. CB Jimmy Smith: Colorado
On tape alone, I love the talent. He's a tall, long-armed corner who can re-route off the line in press; bends well and consistently remains balanced out of his breaks. Based on the talent I think he's the draft's second best corner. However, off the field concerns have some NFL decision makers worried about him long term and I think if you take his guy early, you need to have a strong locker room to put around him.
5. DT Marvin Austin: North Carolina
All Austin has done is impress this post-season. He was a stud at the East/West Shrine practices, displayed impressive athleticism at the NFL Combine and has consistently shown up in great shape to all post-season outings. I think he could end up being a potential impact caliber one-gap lineman in the NFL. But, keeping him focused on the game and motivated will be the key for the team that draft's him