November 08, 2011 -
Barry Dorey
Top five late round/free agent sleepers
A look at five prospects who could end up outplaying their draft grades.
1. WR Matt Austin: Utah State
He is still working his way back from the knee injury and his best football is still ahead of him. Austin is developing as a route runner, however, he's coordinated, can beat press coverage and pluck the football. He looks like at worst a later round pick who can fight his way onto a roster as an inside reserve.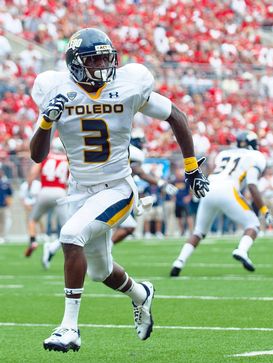 ICONMarrow is raw, but has the talent to develop.
2. DT Dominique Hamilton: Missouri
Plays the run much stronger than his frame would indicate. He's got a burst off the snap, plays with leverage and extends his long arms. Has the frame to add 15 to 20 pounds and could get some real looks in a 34 front. Either way, if he can stay healthy he looks like an intriguing prospect because of his ability to win vs. the run. If he continues to improve, certainly looks worthy of a pick and a roster spot.
3. TE Josh Chichester: Louisville
A tall, long armed strider who can run vertical routes, track the football from the inside and come down with the catch. However, looks like a tall H-back type guy only who is more of a one-trick pony, limiting his upside.
4. DB Desmond Marrow: Toledo (6-2, 210)
Marrow is the type of big defensive back you are willing to take a chance on late because of his athletic and physical skill set. The guy is raw and is going to need time to clean up his technique/footwork, but has the size/speed/fluidity to intrigue.
5.OLB Kyle Wilber: Wake Forest (6-5, 240)
An intriguing 34 rush end to me. Has a good first step, can change directions on his pass rush and plays the run with good integrity. Could be posed for a jump up draft boards with a solid year. Reminds me some of Jaguars DE Aaron Morgan.
Follow me on twitter: @WesBunting
Check out the NFP's NEW NFL DRAFT PAGE HERE.