October 24, 2012 -
National Football Post
Top Five Offensive Tackles
1. Luke Joeckel Junior Texas A&M
6060 (Estimated) 310 (Estimated) 5.15 (Estimated) Projected first round pick
After a dominant performance against LSU, where he went head to head with defensive end Sam Montgomery most of the game and won nearly all the battles, it is clear that Joeckel has what it takes to be a high end starting left tackle in the NFL. Unlike many tall offensive tackles, Joeckel has the knee and hip flexibility to pass block with good base. This enables him to slide and shuffle well to maintain well in pass pro once he gets ahold of man. While he no doubt has to develop and use more consistently a stronger "punch" to avoid being jolted backwards by "bull rusher" initially, his ability to re-set his feet and anchor after being jolted initially is impressive. His combination of size, playing strength and competitiveness enable also him to be a productive in-line run blocker.
2. Taylor Lewan Junior Michigan
6080 (Estimated) 309 (Estimated) 5.05 (Estimated) Projected first round pick
Even though I would like to see Lewan block with more aggressiveness and a nasty streak, he still is a highly productive blocker who should start at left tackle early in his NFL career. His initial quickness out of stance and getting set to block allow him to make it look easy getting to the corner to handle speed rushers. Despite showing the flexibility to block with base at times, more often than not he gets a little straight legged in pass protection, but his foot quickness, agility and balance let him change directions and slide quickly to adjust without any issues. He is not a fire-off the ball run blocker who delivers a hard, violent blow to defensive linemen, but generally makes contact quickly, stays over feet and can tie up and seal man out of the play. Lewan's foot quickness also shows up in his ability to step through to the second level fast to make a good block on the linebacker.
3. Justin Pugh Junior Syracuse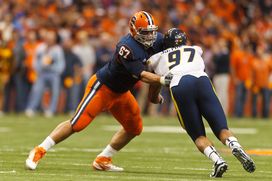 US PRESSWIRESyracuse OT Justin Pugh pass blocks against West Virginia.

6050 (Estimated) 297 (Estimated) 5.00 (Estimated) Projected second round pick
Coming off an excellent sophomore season in 2011, Pugh is just starting to play up his previous level after missing early season games while recovering from off-season surgery on his left shoulder. Playing with great competitiveness and a bit of nastiness on every snap helps Pugh to keep his man blocked on nearly every snap as he is never defeated by players who rely upon just effort. Pugh plays much stronger than you expect for a player who started his Syracuse career at 270 pounds and was viewed as under-sized until this season. Helping Pugh to be a consistent all-around blocker are his sound fundamentals. Not only does he block with good base/leverage, but he stays over feet throughout the play and consistently "gets a good fit" with his hands. Pugh needs to prove to NFL teams that his shoulder injury is a thing of the past if he wants to be a first or second round pick in the NFL Draft.
4. D.J. Fluker Junior Alabama
6060 (Estimated) 335 (Estimated) 5.45 (Estimated) Projected second round pick
A massive man who looks even bigger on film than his listed size, Fluker can be a dominant blocker if he "can get a good fit" on defender. With long arms and rare natural strength, Fluker makes it look easy stopping "bull rushers" in their tracks and can grab, turn and seal defensive linemen out of the play easily on in-line run blocks. When he fires off ball on "side/angle" run blocks he can drive man and collapse defense in that direction to open big holes. However, while Fluker is a good athlete for a man his size, he lacks the foot quickness and agility to change directions quickly enough to handle fast secondary pass rush moves. Basically, in pass protection Fluker "gets beaten across his chest" too easily and must improve this if he is going to play left tackle in the NFL.
5. Dallas Thomas Senior Tennessee
6051 (Verified) 291 (Verified) 5.20 (Estimated) Projected third round pick
Rotating between guard and offensive tackle in 2012 after starting at left tackle the previous two seasons has proven Thomas' versatility, but definitely raises a concern because most teams do not take their left tackle off that post unless he is struggling. An aggressive pass blocker who consistently delivers a hard, violent punch in pass pro, Thomas has consistently played much stronger vs "bull rushers" than expected. That aggressive blocking style combines with his quickness making contact with defender so that he can consistently get movement on in-line run blocks. Thomas will need to prove that he can do a better job of "maintaining his shuffle" if he is going to be effective blocking explosive edge rushers in the NFL, but make no mistake, if he can do this then he has the tools to be a good starting tackle at the next level.
Email Russ at Russelllande@yahoo.com and Follow Russ on Twitter @RUSSLANDE