March 15, 2012 -
National Football Post
Top Five Possession Receiver Prospects
Breaking down the top five possession receiver prospects…

1. Mohamed Sanu: Rutgers (6-2, 215)
Physically reminds me some of Hakeem Nicks. Isn't as NFL ready or explosive vertically, but can go get the football, breakdown and separate out of his breaks. Looks like a future NFL starter who might need some time, but the talent is most definitely there.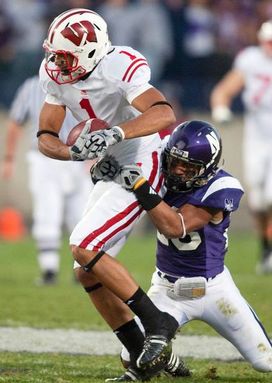 ICONToon is a sneaky route runner.
2. Nick Toon: Wisconsin (6-3, 220)
I like his size, short area quickness and ability to adjust to the football. Isn't a guy who is going to create consistently down the field, but knows how to gain enough separation, pluck and create after the catch. Looks like a guy who can play on the outside as a legit number two wide out running the inward breaking routes with some time, but isn't ever going to be a dynamic playmaker.

3. Alshon Jeffery: South Carolina (6-4, 229)
Jeffery looks like a more dynamic version of Seahawks wide out Mike Williams who will be limited in the routes he can run (fade, slant, post, corner) at the next level. But can still be successful as the "Z" receiver where he will be put in motion and used a lot in two man routes with the tight end running vertical and adjusting to the throw. However, he's never going to be overly productive due to his inability to separate consistently of his breaks.

4. Marvin McNutt: Iowa (6-4, 215)
A tall, long armed receiver who can win off the line and use his big frame to box and go get the football. A big target who looks capable of fighting for a starting role now at the next level. However, is never going to be a guy who separates a ton in any area of the game.

5. Juron Criner: Arizona (6-4, 215)
He's a talent, there is no doubt about that. However, the key in determining his draft stock is where he's at mentally and physically. If he checks out in both areas he could develop into a starting caliber wide out. But looks more like a sub-package guy.
Check out the NFP Draft page here...