October 04, 2011 -
National Football Post
Top five rising prospects
Here are five prospects who are seeing their stock rise through the first part of the season…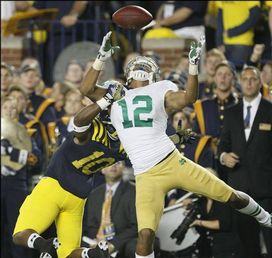 ICONBlanton has done a better job locating the football this year.
5. CB Robert Blanton: Notre Dame (6-1, 200)
Is a nice sized kid with some pressman skills and upside. Is a bit scheme limited and will even struggle in space as a cover two type corner in my mind, but he's a good size/speed athlete who can re-route off the ball and has done a much better job this year finding the football.
4. WR Jarius Wright: Arkansas (5-10, 180)
A coordinated slot receiver who is sharp as a route runner, tough over the middle and knows how to get open vs. man and zone. Has improved vs. press but is more of an inside player only at the next level. Displays the skill set to make a roster and carve out a niche early in his NFL career.
3. QB Russell Wilson: Wisconsin (5-11, 210)
His size is always going to limit him. However, he has been dynamic at the quarterback position at times this year both running and throwing the football and will remind some of former Ohio State signal caller and fifth round pick Troy Smith.
2. WR Kendall Wright: Baylor (5-10, 195)
In the same mold as a number of Pittsburgh Steelers receivers (Mike Wallace, Emmanuel Sanders) and can be effective both inside and out making plays down the field at the next level.
1. OT Jeff Allen: Illinois (6-4, 315)
Allen isn't an overpowering run blocker, but he's smooth/coordinated in pass protection, can keep his base down through contact and warrants a draftable grade as a potential starter on either the right or left side at the next level.