October 27, 2011 -
Barry Dorey
Top five underrated prospects
Breaking down my top five most underrated prospects for the 2012 NFL draft.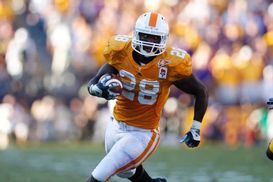 ICONPoole knows how to run against eight man fronts.
1. RB Tauren Poole: Tennessee
A thick, strong back who runs hard and displays natural one-cut ability. Runs a bit upright at times and isn't overly fluid making defenders miss. But can break tackles, play on third down and looks like a solid contributing NFL back.
2. SS Winston Guy Jr.: Kentucky
Still has some upside at the position, as he can tackle, displays solid range in space and above-average instincts in all areas of the game. Should be a heck of a special teams player early and looks like a guy who eventually can fight for playing time.
3. DE Shea McClellin: Boise State
McClellin is a productive pass rusher with a big motor, good skill set and can get after the QB in a number of ways. Looks like a potential starter at the next level.
4. DT Christian Tupou: Southern California
Tupou is coming off a knee injury, which forced him to miss the 2010 season. However, he looks like a better nose tackle prospect to me than Stanford's third round pick Sione Fua from a year ago.
5. CB Troy Stoudermire: Minnesota
Has some character concerns and is really raw, but the skill set is there for him to mature into a contributing corner in the NFL. Plus, as he develops he can always help out on special teams as a return man.
Follow me on twitter: @WesBunting