November 15, 2011 -
National Football Post
Top five underrated wide receiver prospects
A look at my top five most underrated wide receiver prospects…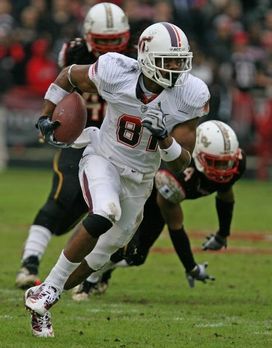 ICONBoykin is a powerful man in the open field.
1. Lance Lewis: East Carolina (6-1 209)
A big guy who can line up both inside and out, cleanly get out of his breaks and track the football. Lewis isn't overly dynamic, but has good play speed and is guy who could mature into a starter.
2. Joe Adams: Arkansas (5-11 190)
An explosive athlete who can go get the football down the field and has some savvy to his game setting up defenders. However, he's inconsistent catching the football and as a route runner. Nevertheless, does enough well to make a roster and see playing time inside and outside. An ideal fit for Philadelphia running the deep crossers.
3. Jarrett Boykin: Virginia Tech (6-2 218)
Isn't real explosive off the line, but plays quick, can get off press, separate and go get the football. Also, he will be able to make plays both inside and out at the next level and should be able to earn playing time at both spots in the NFL.
4. Marvin Jones: Cal (6-3 202)
Possesses good size, good body control and hand/eye coordination, and for his size is a pretty fluid receiver as well. Isn't a dynamic athlete, but should be able to find a way to earn playing time on an NFL roster.
5. Travis Benjamin: Miami (5-10 175)
A typical Miami type athlete who has all the tools needed to make plays at the next level. Has a little DeSean Jackson/Titus Young to his game and if he continues to mature physically could end up playing a similar deep threat type role.
Follow me on twitter: @WesBunting
Check out the NFP's new 2012 Draft Page...