May 06, 2014 -
Dr. David Chao
Top medical issues for the NFL Draft
The start of the 2014 NFL Draft is just two days away. It is widely acknowledged that medical evaluations are an important factor in the decision making process.
In this social media and information era, there has been an ever-increasing flow of injury information on prospective draft picks. I have compiled this public information and used my NFL experience to interpret what it might mean. I have performed medical examinations at 19 Combines and sat in an NFL draft room on draft day for the majority of my years as a team physician.
Just like all general managers won't agree on the players they scout, not all team physicians agree on a player's medical evaluation. However, more times than not, a consensus is reached among medical staffs. It is not uncommon for team medical staffs to trade information and consult with each other.
Below are my top medical issues for a few key NFL draftees. Using the format of my previous top free agent medical issues column, the assessments are categorized into red, yellow and green light ratings.
Teams use more specific grading systems than colors. Some use letter grades "A" through "F" and add pluses and minuses, while others use a numerical system, one through five, but have the grades broken down to decimal points. I utilize the red, yellow and green light system here for simplicity and also to point out that like a traffic light, draft rankings may change as more information is learned.
I have not examined the following players or seen their medical records. All health information privacy laws were carefully observed. I utilize my familiarity with the NFL medical community and public reports to make the following analysis.
RED LIGHT ISSUES
Indicates a serious medical issue that should cause a team to stop and reassess. These players aren't undraftable, but their draft position will likely be affected by the evaluation of team doctors. A general manager will have a long discussion with his medical staff prior to a final decision. They may need surgery, be recovering from surgery or have significant longevity issues. One or more teams will likely have taken these players off their draft boards due to medical risk.
Cyrus Kouandjio, OT, Alabama: A projected first-rounder who was reported to have failed some Combine physicals. Although his treating doctors came out publically to deny the knee issues, that likely holds little weight as personal physician letters are always positive.
Kouandjio had previous ACL surgery and there is worry about articular cartilage damage leading to arthritis. Some teams appear to be concerned about his ligament stability as well.
Kouandjio performed poorly at the Combine and vowed to do better at his Pro Day. It was announced that he would attend the draft live at Radio City Music Hall. If he does, Kouandjio might be one of the last prospects called out of the green room.
Brandon Thomas, OL, Clemson: Suffered a torn ACL in non-contact drills during a team visit with the New Orleans Saints. The timing couldn't have been any worse. Thomas' April injury and subsequent knee surgery will have him missing the entire 2014 NFL season. Anyone drafting Thomas will be doing so with an eye on 2015.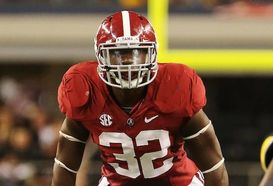 US PRESSWIREAlabama linebacker C.J. Mosley battled several injuries during his college career.
C.J. Mosley, LB, Alabama: Was a possible top-ten pick, but Mosley's biggest hurdle may be his injury history. Nothing in particular stands out, but he has numerous shoulder, elbow and hip injuries.
Sometimes cumulative injury serves to lower a player's medical grade and this is likely the case here. Mosley should still be selected during the first round, but since some teams have downgraded him, he is unlikely to go as early in the round as originally postulated.
Louis Nix III, DT, Notre Dame: Was a top-ten pick based off his 2012 campaign, but was not as productive in 2013 as knee surgery ended his season. It was also reported that Nix has needed additional platelet rich plasma (PRP) treatment.
The big question is whether or not injury affected Nix's 2013 production, as he showed up for camp overweight, raising additional concerns. However, often the two go hand-in-hand. Teams always take notice when a player doesn't finish a season. The use of PRP sometimes indicates a more global knee injury. Another big question focuses on what Nix's knee exam looked like and how much arthritic damage has already been sustained.
YELLOW LIGHT ISSUES
Indicates a significant medical issue that needs to be taken into account. These players are definitely draftable, but a general manger needs to factor in his team's medical assessment. If two players are rated the same, it might be less risky to select the non-yellow light player.
Darqueze Dennard, CB, Michigan State: Has a history of shoulder, knee and ankle injuries as well a double hernia surgery on his resume. Although there is some worry of cumulative injury, the bigger potential concern is the sports hernias. Some detractors say Dennard has tight hips. The question is whether that is related to his hernia issues. Being able to have full mobility and flip one's hips is an integral quality for an NFL cornerback.
Ha Ha Clinton-Dix, S, Alabama: Is coming off December knee surgery, but returned to play in Alabama's bowl game. The concern here is the proximity of the knee injury. If Clinton-Dix's medical evaluation proves he only had a simple meniscus tear and no associated cartilage damage, he will still be an early first round pick.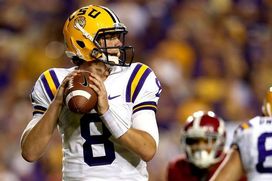 Reports recently surfaced that Mettenberger failed his Combine drug test.
Zach Mettenberger, QB, LSU: Is approximately four months removed from ACL surgery. Mettenberger threw well at his Pro Day and medical reports showed he has the potential to contribute this season. However, reports surfaced that Mettenberger failed his Combine drug test due to a diluted sample. His camp says that the LSU quarterback was overhydrating due to cramping during his recovery. Medically, this calls into question if he was using banned substances to speed up his recovery, as less concentrated urine can decrease the chance of detection.
Aaron Murray, QB, Georgia: Is approximately six months removed from ACL surgery. Has good medical reports and threw well at his Pro Day. Murray still needs additional rehab to become more mobile and to lessen the chance of re-injury. It is also important medically to perform imaging and testing on his knee t o make sure his ACL graft was properly positioned to avoid long-term problems.
Dominique Easley, DT, Florida: Tore the ACL in his left knee in 2011 and then the ACL in his right knee in September of last year. Media reports indicate that Easley is on pace for a full release for training camp. This may be correct, but the key is for the team doctor to perform a medical evaluation and not rely on the spin doctors.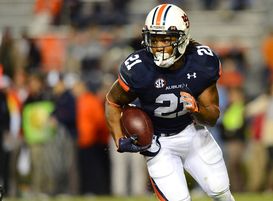 Even if he needs surgery, Mason should be ready to go for the start of the season.
Tre Mason, RB, Auburn: Was recently a surprise visitor to the medical re-check Combine as reports surfaced of a slow-to-heal scaphoid fracture. Mason denied the need for surgery, but after he is drafted, it is likely that his new team will make a final decision on surgery to fuse the broken wrist bone. Mason has likely already played with the injury, but left untreated, it may lead to long-term consequences. Ball security might be a concern with this wrist injury. Even if he needs surgery, Mason could still have limited participation in a majority of the offseason program and be healed in time for the regular season.
Jason Verrett, CB, TCU: Played most of 2013 with a torn shoulder labrum and underwent surgery after his Pro Day. Labral repair surgery is performed arthroscopically and typically has a 4-6 month recovery timeline. Special caution needs to be exercised here as Verrett had a posterior labral tear (as opposed to the typical anterior tear). Injuries to the back of the shoulder socket are harder to brace and trickier to repair.
GREEN LIGHT ISSUES
Indicates a definite medical issue, but one that has healed or should have minimal long term affect. These player injuries have been evaluated by the medical staff and likely a thumbs-up will be given. These players have known injuries that shouldn't scare away a general manager.
Austin Seferian-Jenkins, TE, Washington: Was not allowed to work out at the Combine as a foot fracture was discovered. He subsequently had surgery on his fifth metatarsal stress fracture. Seferian-Jenkins attended the medical re-checks two weeks ago and the key is to see how much healing he has on x-rays and the CT scan. This will determine when he will be released for full football activities. My sources in the medical community seem optimistic.
Jimmie Ward, S, Northern Illinois: Also had a foot injury discovered at the Combine. Despite not being allowed to work out in Indianapolis, Ward posted a 4.47 40-yard dash at his Pro Day on March 7 and then had surgery on his fifth metatarsal. The re-check combine x-ray and CT scan should give teams a good idea of his healing.
Stephon Tuitt, DE, Notre Dame: Had a Jones (fifth metatarsal stress) fracture discovered at the Combine and then underwent surgery. He also has had sports hernia surgery. After Tuitt's medical re-check, he announced on twitter, "I'm all healed up ready to roll!!!!!!" I'm sure teams will check the scans for themselves, but signs are positive that Tuitt has put this injury behind him.
James Hurst, OL, North Carolina: Suffered a non-displaced ankle (fibula) fracture in his December bowl game. Although this certainly affected his workouts for teams, the injury should soon be behind him. This type of injury usually takes 4-6 months to fully heal and has little chance of long-term issues.
This is by no means an all-inclusive list. I am also sure that much more medical information was kept out of the public forum.
Follow David on Twitter: @profootballdoc
Dr. David Chao is a former NFL head team physician with 17 years of sideline, locker and training room experience. He currently has a successful orthopedic/sports medicine practice in San Diego.