August 13, 2011 -
National Football Post
Top Pac-12 senior prospects: Defense
A preseason look at the top senior prospects the Pac-12 has to offer on the defensive side of the ball.
1. DT Alameda Ta'amu: Washington (6-3, 335)
This is the kind of guy who has the ability to anchor the middle of an NFL defense in either a 3-4 or 4-3 front. Needs to do a better job finding the football, but overall he looks like a starter you can win because of at the next level.
2. DE Trevor Guyton: Cal (6-3, 289)
A guy who can fill a number of roles on a defense. He's a naturally powerful kid who can anchor and overwhelm vs. the run game. Needs to improve his hands and awareness, but the upside is there for him to move up boards in a big way with a strong senior year.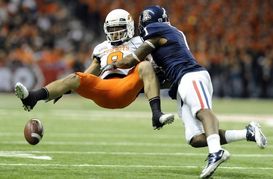 ICONGolden will play both the run and pass.
3. CB Robert Golden: Arizona (5-11, 200)
Might be limited to more of a cover two/click and close type scheme, but he does have some developing press coverage skills. Also, has a lot of value as a safety as he can anticipate in the deep half, drive on throws under him and play over a receiver in nickel situations. Looks like a dirty starter either at safety or corner.
4. CB Omar Bolden: Arizona State (5-10, 195)
The skill set is there for this guy to be a starter in the NFL. Needs to play a little stronger and has to clean up his footwork in order to stick, but gives you some versatility to play either inside or out on an NFL defense.
5. SS Tony Dye: UCLA (5-11, 206)
Isn't an elite athlete, but plays faster than he times. Will tackle consistently and is coordinated in coverage. Looks like a potential special teams stud who with some time should be able to fight his way into a starting line-up as a strong safety.
Follow me on twitter: @WesBunting