August 12, 2011 -
Barry Dorey
Top Pac-12 senior prospects: Offense
A preseason look at the top senior prospects the Pac-12 has to offer on the offensive side of the ball.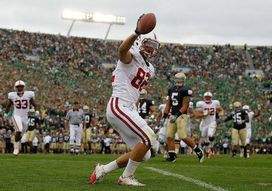 ICONFleener looks like an NFL starter.
1. TE Coby Fleener: Stanford (6-6, 248)
An impressive pass catcher who can win both down the field and underneath vs. man coverage. Has the frame and flexibility to develop into a solid blocker as well and looks like a future starting caliber NFL TE.
2. WR Juron Criner: Arizona (6-4, 215)
He's a talent, there is no doubt about that. However, the key in determining his draft stock if where he's at mentally. If healthy he can be a legit starting wide out on the outside early in his NFL career.
3. OG Senio Kelemete: Washington (6-3, 305)
A gifted athlete with a strong base, strong hands and a passion for the game. Needs to clean up his footwork and his body type makes me think he's more of a guard only prospect. But, has the skill set to fly up draft boards and could be one of the first guards selected in 2012.
4. OT John Cullen: Utah (6-4, 305)
Is far from a finished product, but there is some real natural athleticism to his game. Needs to get stronger and develop as a puncher, but if he continues to improve I think he could be one of the real risers at the OT position this year.
5. QB Nick Foles: Arizona (6-5, 240)
A big, strong-armed passer who has the tools physically. However, needs to continue to develop mentally as a decision maker if he hopes to have a chance of being even a decent starting option in the NFL.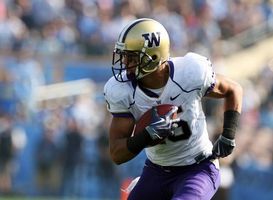 ICONAll the tools are there for Kearse to be a starter in the NFL.
6. WR Jermaine Kearse: Washington (6-1 210)
His talent and skill set says potential NFL starter. However, he doesn't dominate the college game the way a guy with his skill set should. Looks disinterested at times and projects as a "boom" or "bust" type prospect in my mind.
7. OT Mitchell Schwartz: Cal (6-5, 325)
Displays solid athletic ability, but looks better suited to play on the right side in the NFL vs. less speed. A nice mid/later round type draft pick who could eventually fight for playing time.
8. OG Ryan Miller: Colorado (6-8, 312)
The big guy can bend, but leverage is always going to be a struggle for him inside. However, he does have some natural balance/coordination to his game vs. both the run and pass, and in my mind is better suited to play as a right tackle in the NFL.
9. WR Chris Owusu: Stanford (6-0, 199)
A bit linear of an athlete. However, he's a natural pass catcher with good straight-line speed and a real savvy about his game. Will find a way to contribute to an NFL receiving core as a solid secondary option.
10. WR Marvin Jones: Cal (6-2, 200)
Possesses good size, good body control and hand eye coordination for his size, and is a pretty fluid receiver as well. Isn't a dynamic athlete, but should be able to find a way to make and earn playing time on an NFL roster.
Follow me on twitter: @WesBunting