March 13, 2012 -
National Football Post
Top Post-Season Risers: Linemen
Which prospects have helped themselves the most this post-season…
OT Mitchell Schwartz: California (6-6, 318)
Displays solid athletic ability, but looks better suited to play on the right side in the NFL vs. less speed/explosion. Had a really strong showing at the 2012 Senior Bowl and looks like a top 100 type pick who should eventually fight for playing time.

Current Draft Stock: 2nd/3rd round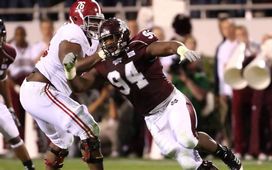 Cox has some bend when asked to flatten on the edge.
OG Brandon Brooks: Miami (Ohio) (6-5, 343)
Is a big, strong kid who has some lateral quickness for his size, but needs some technique work. Nevertheless, has some upside and can win consistently in the run and pass game at the next level. Was brilliant at the East-West Shrine game this year and ran in the sub-5.0 range at his pro day at nearly 350-pounds. Looks like an NFL starter early on in an angle scheme to me.

Current Draft Stock: 2nd/3rd round

C David Snow: Texas (6-4, 295)
Isn't an overly powerful in-line guy or elite athlete. But he can bend, is coordinated in both the run and pass game and does a good job shooting his hands inside and sticking to blocks. Looks like a guy who can make a roster and with some improved strength fight for playing time down the line.

Current Draft Stock: Late round pick

DL Fletcher Cox: Mississippi State (6-4, 295)
I think his best spot might be as a 34 five technique who is able to penetrate and make plays off the ball. He's raw and needs to learn to play with his pad level lower. However, as a potential five technique he's a guy who has the skill set to earn a starting role, create negative plays and fend off blocks with his natural length/strength.

Current Draft Stock: Top 20

DT Dontari Poe: Memphis (6-5, 350)
Has a rare physical skill set due to his combination of flexibility, power and get off burst. However, he's still learning the nuances of the position. If he's willing to put in the time, Poe can mature into one of the leagues better interior presences. Nevertheless, because he's raw his floor isn't overly high either.
Current Draft Stock: Top 15
Check out the NFP Draft Page here...