March 15, 2012 -
National Football Post
Top Potential 2nd Round Values
Who could make for the best values going into round two on draft day?

RB David Wilson: Virginia Tech (5-10, 205)
He's a compact kid who runs stronger/harder than you would expect from a guy his size. Has a dynamic quality to his game both inside and in the open field, and looks capable of maturing into a very good NFL running back early on in the NFL.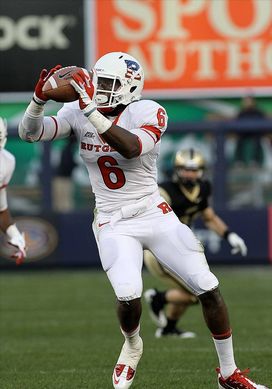 ICONSanu is an intriguing 2nd round value.
RB Lamar Miller: Miami (5-11, 212)
Possesses a good first step, a natural feel between the tackles and exhibits the cut back ability to slice his way up the field. However, looks more like an ideal fit for a zone-blocking scheme because he isn't a guy who is going to make a ton of NFL defenders miss or break many tackles inside.

WR Mohamed Sanu: Rutgers (6-2, 215)
Physically reminds me some of Hakeem Nicks. Isn't as NFL ready and lacks the same type of vertical speed, but can go get the football, breakdown and separate on all levels of the field. Looks like a future NFL starter who might need some time, but the talent is most definitely there.

TE Coby Fleener: Stanford (6-6, 244)
An impressive pass catcher who can win both down the field and underneath vs. man coverage. Has the frame and flexibility to develop into a solid blocker as well and looks like a future starting caliber NFL TE.

OG Amini Silatolu: Midwestern State (6-3, 324)
He has some technique flaws that needs to be fixed and will need to kick inside at the next level. However, he's a wide-bodied athlete with a powerful/explosive frame, good foot quickness and can really pull from the backside. Might need some time, but is one of the top guards in the class with as much upside as any.

DT Jerel Worthy: Michigan State (6-3, 310)
A talented kid with a thick frame, "plus" get off burst and snap awareness to his game. However, doesn't shed blocks well when engaged and lacks ideal anchor ability inside. Looks like a one-gap type lineman only who could give solid reps at both nose and three-technique in a 43 front. But is going to need some time before he's ready to start.

DT Alameda Ta'amu: Washington (6-3, 337)
This is the kind of guy who has the ability to anchor the middle of an NFL defense in either a 3-4 or 4-3 front. Needs to do a better job finding the football, but overall he looks like a starter who you eventually will be able to win with in the NFL.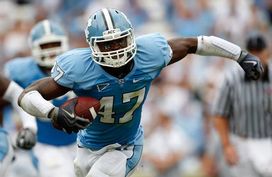 ICONBrown is an elite athlete at the position.
OLB Zach Brown: North Carolina (6-2, 230)
A run and hit guy with impressive athleticism and range. Possesses solid instincts and is a better read-and-react linebacker than given credit for, but still not elite in that area. Nevertheless, looks like a starting caliber 43 weak side guy who would be ideal in a cover two scheme.

LB Dont'a Hightower: Alabama (6-4, 260)
Looks like a potential impact caliber 34-inside linebacker who has the skill set to win inside vs. the run and create pressure on third down as a savvy rush guy as well.

SS Mark Barron: Alabama (6-2, 218)
Has the makings of a heck of a special teams player who can also attack downhill vs. the run game, play inside the box and drive on the football in front of him in the pass game. Isn't going to be a major threat turning and tracking the football, but his improved instincts makes me think he can start in the league early on.
Check out the NFP Draft page here...