April 28, 2012 -
National Football Post
Top prospects available for round four
Breaking down the best prospects still on our board…
Alfonzo Dennard CB, Nebraska
He's strong/feisty, can press off the line and turn and run. Needs to clean up some technical flaws both in press and off the line, which hinders his balance. But can be a guy who could start both on the outside and in the slot at the next level.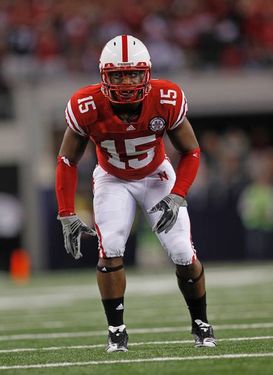 ICONDennard has fallen due to off the field issues.
Ronnell Lewis OLB, Oklahoma
Possesses an impressive physical/athletic skill set, a "plus" motor and a real passion for the game. I don't think he's ever going to be a top end pass rusher in the NFL. However, as a 6-8 sack guy long term who can help out on special teams and give you all he has play in and play out, I think he warrants a second round type grade.
Josh Chapman DT, Alabama
Has the making of a starting caliber nose at the next level in either a 3-4 and 4-3 front. Can consistently anchor on contact, is long armed and tough to move off the football. Also, is a better pass rusher than given credit for. Will likely fall because of medical concerns, but could be a real bargain because of it.
Orson Charles TE, Georgia
A gifted athlete who can create a lot of mismatches in the pass game. Should be able to improve as a route runner as well. Not quite as polished as Aaron Hernandez as an H-back coming out, but could end up playing a similar type role.
Jared Crick DE, Nebraska
Isn't a guy who can hold up vs. the run inside in the NFL and isn't a dynamic pass rusher either. However, as a five-technique DE I can see him finding a home with some versatility on 3rd down.
Cam Johnson DE, Virginia
A solid college defensive end who has never been much of a sack artist but there are some tools there. Showcases some fluidity in his drop and in coverage and has the ability to mature into a more sudden pass rusher. Will get looks in both a 34 and 43 front.
Josh Norman CB, Coastal Carolina
Talent says he's a top-60 pick, but there are some character concerns that could cause him to fall. Either way he has the talent to quickly match-up with NFL receiver at the next level.
Lamar Miller RB, Miami
Possesses a good first step, a natural feel between the tackles and exhibits the cut back ability to slice his way up the field. However, looks more like an ideal fit for a zone-blocking scheme because he isn't a guy who is going to make a ton of NFL defenders miss or break many tackles inside.
Alameda Ta'amu DT, Washington
This is the kind of guy who has the ability to anchor the middle of an NFL defense in either a 3-4 or 4-3 front. Needs to do a better job finding the football, but overall he looks like a starter who you eventually will be able to win with in the NFL.
Chris Polk RB, Washington
Is a big kid with a good feel inside, runs hard and will break some tackles. However, pad level, initial burst and lack of great change of direction skills make me think he's potential NFL starter only.