April 27, 2012 -
National Football Post
Top Prospects Available in Round 2
Breaking down the best prospects still on our board…
Had had some struggles in space as a tackle prospect, but in tighter areas where he can get his hands on linemen quickly as a guard he showcases the ability to dominate. Looks like a starting caliber OG early in his NFL career.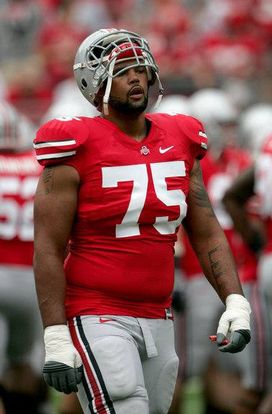 ICONAdams won't last long on day two.
He's a talented kid with a big frame, long arms and natural movement skills. He can bend and if he can put it all together and continue to improve his footwork he could certainly mature into a starting caliber left tackle in the NFL.
Has a unique skill set, can pluck off his frame, track the football and is the next big time talent from the Georgia Tech program. Is going to need some time to develop, but can come in and track football vertically early on. Has a lot of upside to his game and skill set says he's an NFL starter.
I like him as a 34 outside backer who can play on the strong side, take on linemen at the point and also rush the passer. He's at his best attacking downhill, using his strong hands to disengage and always is around the football. Looks like a year one starter to me at the next level with scheme versatility.

Peter Konz C, Wisconsin
For a taller center showcases impressive flexibility, as he typically gains leverage on contact and uses his length to gain proper hand placement. Has some limitations because of his height and will allow defenders to get under him at times. However, for the most part is able to quickly re-set his hands, sink his hips and keep the inside of the pocket clean in pass protection. Showcases an good snap through the hips in the run game, is routinely able to create a push inside and drive opposing nose tackles away from the play and/or seal. Looks like a "plus" run blocker in the NFL in more of an angle scheme.

Devon Still DT, Penn State
A tall, physically put together defensive lineman with good girth through the lower half, but has the frame to get even bigger. Possesses "plus" power and get off burst for his size, but is still learning how to put it all together. Has the ability to bend, as he at times keeps his base down and butt under him off the snap. And when he can gain leverage on contact the guy has the ability to consistently overwhelm at the point and dominate. Possesses good power on his bull rush, exhibits the strength to consistently drive blockers into the backfield and is also much more sudden laterally when his feet are under him.

Alshon Jeffery WR, South Carolina
Overall, Jeffery looks like a more dynamic version of Seahawks wide out Mike Williams who will be limited in the routes he can run (fade, slant, post, corner) at the next level. But can still be successful as the "Z" receiver where he will be put in motion and used a lot in two man routes with the tight end running vertical and adjusting to the throw. However, he's never going to be overly productive due to his inability to separate consistently of his breaks.

Amini Silatolu OG, Midwestern State
He has some technique flaws that needs to be fixed and will need to kick inside at the next level. However, he's a wide-bodied athlete with a powerful/explosive frame, good foot quickness and can really pull from the backside. Might need some time, but is one of the top guards in the class with as much upside as any.

Jonathan Martin OT, Stanford
He's got the NFL size, length and overall athletic skill set. However, he's not a natural anchor player and doesn't strike me as a guy who is ever going to be real physical at the next level. He can mirror in space, but struggles to stick through contact and isn't real heavy handed. Looks like a finesse tackle who will get over drafted because of athletic talent, but is going to have a hard time keeping the edge clean at the next level.

Lamar Miller RB, Miami
Possesses a good first step, a natural feel between the tackles and exhibits the cut back ability to slice his way up the field. However, looks more like an ideal fit for a zone-blocking scheme because he isn't a guy who is going to make a ton of NFL defenders miss or break many tackles inside.

Rueben Randle WR, Louisiana State
Possesses that sneaky strider speed down the field and has some savvy to his game. However, lacks great burst out of his breaks and isn't going to be effective running sharply breaking routes. Looks like a potential NFL starter only.

Lavonte David OLB, Nebraska
He's undersized, but is instinctive. Might be limited to more of a cover two type scheme only, but looks like a starting caliber weak side guy to me early in his NFL career.

Janoris Jenkins CB, North Alabama
If he can put it all together off the field, he's got the ability to develop into a very good cover man in the NFL and despite his size he's going to be a really tough guy to separate from in just about any scheme he plays in.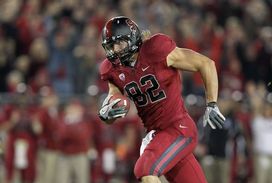 Fleener is a great second round value.
An impressive pass catcher who can win both down the field and underneath vs. man coverage. Has the frame and flexibility to develop into a solid blocker as well and looks like a future starting caliber NFL TE.

Alameda Ta'amu DT, Washington
This is the kind of guy who has the ability to anchor the middle of an NFL defense in either a 3-4 or 4-3 front. Needs to do a better job finding the football, but overall he looks like a starter who you eventually will be able to win with in the NFL.