April 29, 2012 -
National Football Post
Top rookie free agent signings by team
Arizona Cardinals: Zach Nash, DE, Sacramento State
He doesn't have a ton of experience standing up or playing as a DE at Cal-State Sacramento. But, he exhibits a good first step, can change directions off his speed rush and use his hands well to keep himself clean. He's got a burst to his game with the size (6023, 252-pounds) to intrigue at a number of spots in a 34 scheme.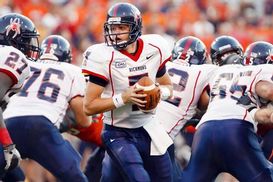 ICONCorp is an ideal late round/FA type QB prospect.
Atlanta Falcons: Jerrell Harris, LB, Alabama
A throwback linebacker who can be a solid NFL contributor vs. the run game. Looks like a 34 guy only who needs to play in tighter areas, but isn't a real natural pass rusher. Nevertheless, he's a plus run defender with good size and instincts. Can offer some versatility inside as well.
Baltimore Ravens: Ishmaa'ily Kitchen, DT, Kent State
A thick, strong kid with some natural power and can be tough to move. Needs to improve pad level and overall technique when extending arms and fending off blocks. A size free agent who has some tools that will give him a chance to develop on a practice squad.
Buffalo Bills: Aaron Corp, QB, Richmond
A former USC transfer. Is a bit lean at only 214-pounds. However, he has a flexible looking frame and at nearly 6-4 possesses the height to see over the line of scrimmage with ease. Displays impressive balance from under center through his drop, he maintains good width through the base and has a little snap when transferring his weight. He doesn't have a great arm, but spins a clean football, demonstrates a quick release and throws a really catchable football. Plus, he looks coordinated on the move and when asked to boot to his right, he generates a little more torque from the waist and can really snap some throws outside the numbers.
Carolina Panthers: Derek Dennis, OG, Temple
Is worth a pick because he moves so well for a 325-pound lineman. Needs to learn to play lower though if he ever hopes to be anything more than a reserve. However, his fluidity on the move says he has a chance to mature into a starter.
Chicago Bears: James Brown, OL , Troy
Has an intriguing skill set and the frame to get bigger. His body type says offensive tackle in the NFL to me and not guard. But he needs to physically get a bit bigger to play either spot. Looks like a higher upside/developmental guy who could be worth a mid round pick and if he's willing to put in the time could mature into a possible starter.
Cincinnati Bengals: Vontaze Burfict, LB, Arizona State
A talent with natural pop on contact, can hold the point of attack and for his size exhibits "solid" range and fluidity. Isn't a guy who I could trust as a starting 43 mike as he needs to stay in control of his emotions and make the defensive calls. Needs to be put in a good locker room with a vet next to him to help him learn to be a professional.
Cleveland Browns: Bert Reed, WR/RS, Florida State
An undersized receiver who looks like a vertical slot guy only at the next level. Could get a look late in the draft and fill out a roster spot.
Dallas Cowboys: Aston Whiteside, DE, Abilene-Christian
The 6-2, 265-pounder is able to create a burst off the edge, counter off his speed rush and keep his pad level down while changing directions. He also displayed some violence when asked to shed with his hands and was a tough block one-on-one.
Denver Broncos: Coryell Judie, CB, Texas A&M
He's a naturally gifted athlete with good range and great ball skills. Displays enough fluidity and balance to develop as a man-to-man corner, but looks ideally suited for a cover two type role at this stage that allows him to attack the football and create turnovers. An eventual starter in that type of scheme.
Detroit Lions: Kellen Moore, QB, Boise State
I see him more as a later round type pick/reserve only whose playing career will end up being closer to say a Koy Detmer type quarterback than a Drew Brees.
Green Bay Packers: Sean Richardson, S, Vanderbilt
Is always around the football, plays fast vs. the run game and will stick as a tackler. Isn't a guy who will hold up in space at the next level, but as a core special teams guy and thumper in some big nickel packages I think he has a chance to make a roster.
Houston Texans: Loni Fangupo, DT, BYU
A naturally strong kid with a great attitude and work rate. Needs to improve pad level, but has the kind of natural power and work ethic to make it with some time.
Indianapolis Colts: Micah Pellerin CB, Hampton Displays a great feel in coverage when matched-up one-on-one. He's slow in his drop, exhibits a good closing burst and despite getting a bit leggy at times he has the length to get his hands on a lot of footballs. Showcases natural fluidity when asked to turn and run and displays a good burst out of his transition. Can be physical off the line.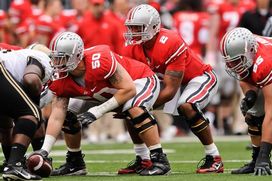 ICONBrewster should make a roster and eventually could fight for playing time.
Jacksonville Jaguars: Michael Brewster, C, Ohio State
A seasoned lineman who displays good size, hand placement and bend for the position. Looks like an eventual starter to me in the NFL.
Kansas City Chiefs: Tysyn Hartman, S, Kansas State
Showcases a little closing speed out, but is tighter out of his breaks. Has a good feel for the game, but I can't ever seeing him make many plays on the football.
Miami Dolphins: Kelcie McCray, DB, Arkansas State
He does have some natural coverage ability for his size and should run well for the position. There are some questions about desire as a tackler and instincts in the deep half. However, a guy at his size with his athleticism at worst deserves a shot late.
Minnesota Vikings: Tydreke Powell, DT, North Carolina
A naturally talented kid, just plays too high and doesn't play up to his skill set. Is worth a flyer in camp as a late round/free agent type upside prospect, but needs to learn to play lower.
New England Patriots: Marcus Zusevics, OT, Iowa
A "plus" run blocker who more than held his own in the pass game. He quickly gets off the football, generates a snap into contact and improved his pad level into/out of his stance as the year went on. Zusevics looks like a potential starting caliber offensive lineman -either at guard or tackle- in the NFL with a year or two of seasoning, but has limited upside.
New Orleans Saints: Brian Lithicum, TE, Michigan State
A limited blocker, but has some savvy as a pass catcher and adjusts well to get the football. Isn't a dynamic athlete and his limitations in the run game will hurt him. Looks more like a late round type/reserve only who could potentially make a team because of his ability to work the middle and move the chains.
New York Giants: Janzen Jackson, S, McNeese State
A talented kid who can run, track the football and can be a violent striker on contact. However, isn't the most sound of wrap-up guys, is raw with his footwork and has character concerns. Nevertheless, has the talent to play in the NFL and should get a shot because of his ability to run and strike.
New York Jets: G.J. Kinne QB, Tulsa
Kinne has a little Jeff Garcia/Bruce Gradkowski to his game. He will fall on draft day because of his size, but is your typical gritty QB prospect who is the son of a coach and in my view will find a way to make a roster and potentially fight for playing time down the line.
Oakland Raiders: Lucas Nix OG, Pittsburgh
A good athlete for the position who can win in the pass game and seal lanes inside as a run blocker as well. Has some upside as a power play moving lineman off the ball and looks like a capable starter in the NFL.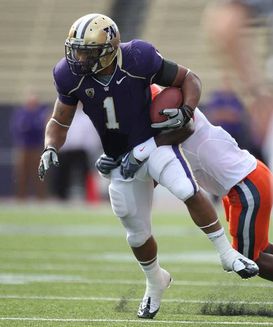 ICONPolk is a top-100 talent who fell due to injury concerns.
Philadelphia Eagles: Chris Polk, RB, Washington
Is a big kid with a good feel inside, runs hard and will break some tackles. However, pad level, initial burst and lack of great change of direction skills make me think he's potential NFL starter only.
Pittsburgh Steelers: Robert Golden, S, Arizona
Might be limited to more of a cover two/click and close type corner, but he does have some developing press coverage skills. Also, has a lot of value as a safety, as he can anticipate in the deep half, drive on throws under him and play over a receiver in nickel situations.
San Diego Chargers: Christian Tupou DT, Southern California
Tupou is coming off a knee injury which forced him to miss the 2010 season. Is tough to move off the ball and looks like a potential one-technique in a one-gap scheme.
San Francisco 49ers: Chris Owusu, WR, Stanford
A bit of an linear athlete. However, is a natural pass catcher with good straight-line speed and a real savvy about his game. Will find a way to contribute to an NFL receiving core as a solid secondary option.
Seattle Seahawks: Jermaine Kearse, WR, Washington
Looks like a guy who should be able to dominate at the college level. However, he seems a bit disinterested at times, isn't as physical in any area of the game as his frame would indicate and isn't a guy I would trust on the outside in the NFL to make plays for me.
St. Louis Rams: DeAngelo Peterson, TE, LSU
An athletic kid who can run and get down the seam. However, is raw in all areas of the game and doesn't seem to have put much work into his trade, I don't know if he wants to or ever will. Nevertheless, physically the guy is worth a look.
Tampa Bay Buccaneers: Leonard Johnson, CB, Iowa State
A well-built kid lacking ideal height, but plays fast and I like his footwork and balance. Isn't a dynamic athlete, but can play some press and off coverage, and looks capable of getting playing time both on the outside and in the slot at the next level.
Tennessee Titans: DaJohn Harris, DT, USC
Improved his pad level, balance and hand usage as a senior and looks like one of the better senior DT prospects. Looks like an intriguing rotational guy with some long term upside.
Washington Redskins: Chase Minnifield, CB, Virginia
A talented corner who can bend, re-direct, maintain balance out of his breaks and make plays on the football. However, had a tough go as a senior giving up a lot of plays and having a tough time maintaining balance when trying to locate the ball vs. bigger receivers. A potential starter only.