May 03, 2012 -
National Football Post
Top Second Round Values
St. Louis Rams: CB Janoris Jenkins, North Alabama
From a pure talent perspective, Jenkins in my mind was the draft's second best cover man. He showcased natural foot quickness and balance when asked to change directions and drove on the football as well as any corner in the draft. Now, obviously there are some off the field concerns attached to his name. However, as a football player he's a top-15 caliber prospect and if he can keep himself clean off the field he has a chance to mature into one of the draft's best overall players.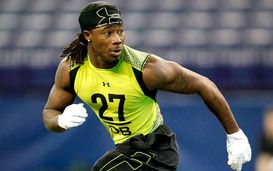 Jenkins is a top-15 caliber talent.
Carolina Panthers: OG Amini Silatolu, Midwestern State
Silatolu is a bad man. He plays with a fire in the belly, loves to finish and showcases "plus" athleticism when getting out to the second level. There might be a small learning curve as he makes the move from tackle to guard in the NFL. However, because of his ability to fire off the ball, create a snap and finish, he looks like a potentially dominant run blocker inside.
Pittsburgh Steelers: OT Mike Adams, Ohio State
Adams is one of the few prospects in the entire draft with the skill set needed to play left tackle in the NFL. He possesses "plus" size, can slide his feet and stick through contact. His lower body balance and hand placement are inconsistent at this stage. However, he's got the talent to instantly improve the Steelers offensive line and potentially give them a long-term starter at either right or left tackle.
Cincinnati Bengals: DT Devon Still, Penn State
I don't think Still was ever worth a potential top-15 grade. However, when his motor is running the guy has the ability to overwhelm on contact, gain leverage with his hands and shed on contact. He's a power player as a pass rusher who can push the pocket and displays a little shiftiness when asked to shed. Still's a guy who should be able to mature into a solid NFL starter inside and gives the Bengals a great value at a key position in round two.
New York Jets: WR Stephen Hill, Georgia Tech
When looking at a prospects upside, there isn't a receiver in the class with as much of it as Stephen Hill. Hill is a developing route runner who wasn't asked to run the entire route tree at the college level. However, for a guy at his size (6-5) he showcases the ability to get up to speed quickly, track the football and adjust to the throw down the field. Now, obviously there are some inconsistencies to his game. But he has the skill set to contribute as a vertical threat from day one and eventually could mature into one of the NFL's top all around receivers.
Indianapolis Colts: TE Coby Fleener: Stanford
Fleener is a big target who can run down the seam, create separation on vertical routes and set up defenders underneath. He needs to become a better blocker. However, he has the size and growth potential to certainly develop in that area and eventually mature into one of the league's top all around tight end threats.