April 26, 2013 -
Erik Oehler
Top ten players still available
1. Ryan Nassib, QB, Syracuse, Senior (6021, 227 and 5.06): Nassib is the most fundamentally sound quarterback in the class. He has a quick release and a live arm to make every NFL throw with ease. Nassib has tremendous accuracy in the short to intermediate areas of the field, but must improve his deep ball accuracy to become the high end starter that we think he can be. He is an outstanding value in the second-round as we still believe he is the best quarterback in the 2013 draft class.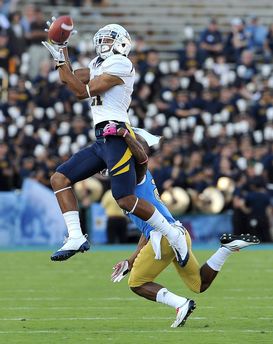 US PRESSWIRECalifornia receiver Keenan Allen goes up to catch high pass against UCLA.
2. Keenan Allen, WR, California, Junior (6020, 206 and 4.71): Allen is a tall, athletic wide receiver who clearly plays faster than his timed 40-yard dash. A smooth, fluid receiver capable of locating and tracking the ball in the air, Allen makes adjustments to make tough catches seem routine. He is a good route runner who excels gaining yards after the catch. Look for Allen to come off the board early in Round 2 as he is one of the draft's best players, regardless of the slow 40- time.
3. Gavin Escobar, TE, San Diego State, Junior (6057, 254 and 4.84): Escobar is the most natural pass catcher of any tight end in this class. He has a huge catching radius and catches the ball away from his frame with soft hands. Escobar is a very athletic tight end who is capable of making plays out in space with the ball in his hands as he has some wiggle to make defenders miss. He is a true mismatch for defenses as he is too big to be covered by most defensive backs and too quick to be covered by linebackers. He consistently displays the ability to gain separate from man coverage. Escobar is the second best tight end in this class and he is a great value at this point in the draft.
4. Cornellius "Tank" Carradine, DE, Florida State, Senior (6041, 276 and 4.75): Despite rumors that he could be selected in the top ten, Carradine slid through the first round undrafted. After a highly productive first year starting in 2012, teams were not willing to gamble on him because he was viewed as a "one year wonder" and suffered a season ending injury during that one season. A gifted athlete, Carradine's production rushing the passer and against the run makes him the most complete defensive end remaining on the board entering the second round.
5. Matt Barkley, QB, USC, Senior (6024, 227 and 5.05 E): A technically sound passer, Barkley has consistently shown good accuracy on all types of throws. He doesn't possess incredible arm strength, but makes up for it with his ability to anticipate and deliver throws on time. He displays great touch down the field and can drop the ball into the right area and on time for his receivers. Experienced playing in a pro-style offense, he is at ease reading the defense pre-snap and making the correct adjustments and protection calls. He is a good value at this point in the draft as he has many of the tools required to be a quality starter in the league.
6. Corey Lemonier, OLB, Auburn, Junior (6033, 255 and 4.60): After a breakout 2012 season, Lemonier was viewed as an explosive athlete who could burst off the ball and out run the OT around the corner. Despite his production and athleticism, he is viewed by many NFL people as a better athlete than football player at this point in his career and has a long way to go to be a complete player. Someone will gamble on Lemonier's talent and potential early in the second round.
7. Quinton Patton, WR, Louisiana Tech, Senior (6000, 204 and 4.53): Patton is a smooth athlete who displays a remarkable ability to run routes at close to full speed. He is a very good route runner who easily separates from all types of coverage. He isn't overly fast and won't necessarily run away from NFL defenses, but his combination of explosiveness, physicality and route running savvy makes him a threat on a consistent basis. He stands out as a highly polished prospect that should come off the board early in Round 2.
8. Jesse Williams, DT, Alabama, Senior (6033, 323 and 5.20 E): The best pure nose tackle in the draft, Williams finds himself still available after the first round as he is considered a raw player who is still learning the game. Despite having the natural strength to physically dominate OL at the point of attack, he does not do it consistently because he will get upright and loses leverage at times and is slow getting his hands on blocker. Do not be shocked to see a team that runs a 34 defense take him early in the second round.
9. Jonathan Cyprien, SAF, Florida International, Senior (6002, 207 and 4.55 E): Our number two safety, we are surprised to still see Cyprien available, but his inconsistent tackling probably is a big part of the reason. I have no doubt that he has the athleticism to be productive in pass coverage in the NFL, but he must prove that against a higher level of competition. His combination of size and athleticism is unmatched by any remaining safety, so I expect him to be the next one drafted.
10. Jamar Taylor, CB, Boise State, Senior (5105, 192 and 4.38): Very fast, Taylor was in the grouping with DJ Hayden and Desmond Trufant and ends up being the only one not selected in the first round. While he has no issues playing physical in coverage, his aggressiveness does lead to him jumping/biting on fakes and allows receiver to gain separation from him. I have a feeling some team will jump on Taylor within the first five picks of the second round.
Email Russ at Russelllande@yahoo.com and Follow Russ on Twitter @RUSSLANDE