October 12, 2011 -
Barry Dorey
Top ten senior prospects
Our first look at the nation's top ten senior prospects…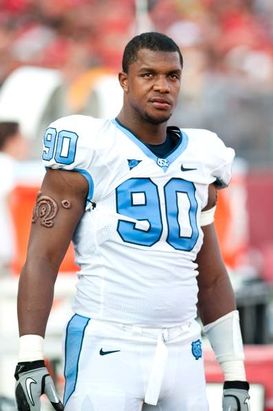 ICONCoples is dripping with upside.
1. DE Quinton Coples: North Carolina (6-6, 278)
Can be as good as he wants to be in the NFL. The game comes very easy to him and he can be dominant if he learns to use his arms even better to slip blocks in the pass game, but with more time I expect that to improve. The sky is the limit.
2. OLB Bruce Irvin: West Virginia (6-3, 235)
A similar caliber athlete to Denver LB Von Miller off the edge. Looks like an impact caliber pass rusher as a 34-rush guy in the NFL if he can continue to keep himself clean of the field. However, plays hungry and looks like he's out to prove people wrong.
3. OLB Courtney Upshaw: Alabama (6-2, 263)
I like him as a 34 outside backer who can play on the strong side, take on linemen at the point and also rush the passer. He's at his best attacking downhill, using his strong hands to disengage and always is around the football. Looks like a year one starter to me at the next level with scheme versatility and impact potential.
4. DT Alameda Ta'amu: Washington (6-3, 335)
This is the kind of guy who has the ability to anchor the middle of an NFL defense in either a 3-4 or 4-3 front. Needs to do a better job finding the football, but overall he looks like a starter you can win because of in the NFL.
5. WR Michael Floyd: Notre Dame (6-3, 220)
Didn't seem quite as dynamic as a receiver when bulked up, however, he seems to have leaned himself out this year and look much more explosive because of it. Should end up being one of the top wide outs to come off the board in April.
6. QB Ryan Tannehill: Texas A&M (6-4, 220)
He's smart, athletic, can make all the throws and the team really responded to him. His flaws are correctable and it's crazy to where this guy could be in five years with more experience and coaching. A potential franchise quarterback in my mind.
7. DE Melvin Ingram: South Carolina (6-2, 276)
He is an impressive pass rusher who can get after the QB in a number of ways. Ingram is raw with his technique and can get better, but his suddenness, length and natural feel for the game makes me think he's one of the draft best senior pass rushers.
8. DT Brandon Thompson: Clemson (6-2, 310)
A defensive tackle who should be able to come in and be a lineman who can win inside vs. the run game early on. Looks a bit limited as a pass rusher but will be able to push the pocket and fight his way through contact off the snap/ A starting caliber 43 nose inside.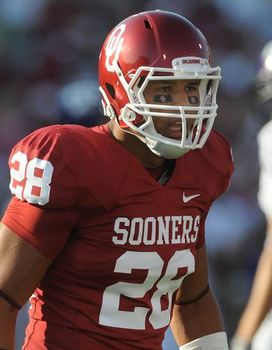 Lewis is one of the safest prospects in the draft.
9. OLB Travis Lewis: Oklahoma (6-2, 233)
He's a bit undersized and doesn't tackle as well as you would like inside the box. However, he's a good run and hit backer who plays the run well and will be able to make plays vs. the pass game in the NFL. Looks like a day one starter to me as a 43 backer, either on the weak side or possibly in the middle.
10. OT Mike Adams: Ohio State (6-6, 310)
This might be a little high for Adams as of now. However, he looked much more coordinated and balanced in his first game back from suspension compared to last year and used his length well to keep himself clean in pass protection. When it's all said and done, I wouldn't be surprised if he's my top rated senior tackle.