May 04, 2012 -
National Football Post
Top Third Round Values
My top third round values…
St. Louis Rams: CB Trumaine Johnson, Montana
From a pure physical standpoint, Johnson reminds me a lot of Ravens 2011 first round pick Jimmy Smith. Johnson doesn't have as much experience as Smith playing press coverage. However, he has a similar physical make-up, can turn and run and showcases the ability to track the football. On tape I thought he could have been a potential late first round option. But the off the field concerns likely caused him to fall. Nevertheless, he's a great talent to add in round three and could mature into one of the best players at his position to come out of the 2012 draft.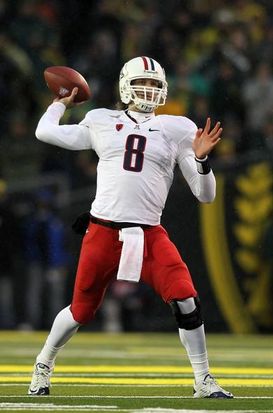 ICONFoles has the skill set to start in the league.
Houston Texans: OG Brandon Brooks, Miami OH
It's rare to find a physical specimen quite like Brooks at the offensive guard position. At 6-5, he carries his 350-pound frame about as well as you can and on the field he's about as strong at they come. He needs to do a better job firing off the football, as there isn't a ton of initial snap to his game. But, he can still hold his own in the pass game because of his ability to slide laterally and should make for a "plus" starting lineman in the NFL.
Cincinnati Bengals: DT Brandon Thompson, Clemson
Thompson displays a "plus" initial first step off the ball; he can keep his pad level down and fight his way consistently into the backfield as a one-gap guy. He's a bit linear when asked to breakdown and rush the passer. But, he's always putting himself in position to make plays on the football. He also displays a solid anchor in the run game and overall looks like a future starting nose tackle for the Bengals 43 front.
Philadelphia Eagles: QB Nick Foles, Arizona
When looking back on the 2012 NFL draft, I think Foles could end up being the one guy we wonder… "how did he fall all the way to round three?" He's in a great place in Philly where he has time to sit back and learn the offense. Plus, he showcases the ability to handle adversity, make plays on the move and be decisive in the face of pressure. Foles is a big, strong kid who displays a good arm and long term has the skill set to start in the league.
Cincinnati Bengals: WR Mohamed Sanu, Rutgers
Sanu isn't the most explosive athlete off the line and isn't ever going to be a guy who can get behind defenses on the outside. However, for his size he showcases natural foot quickness and balance out of his breaks with the ability to mature into a "plus" route runner. He's also very comfortable working from the inside, going up to pluck the football and winning off his frame. He's never going to be a dynamic athlete, but he reminds me a lot of Marques Colston physically and could mature into that type of player in the NFL if used similarly.