August 10, 2011 -
National Football Post
Top-10 SEC senior prospects: Defense
A preseason look at the top senior prospects the SEC has to offer on the defensive side of the ball.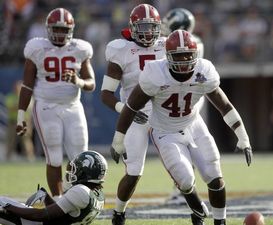 ICONUpshaw is an impact caliber prospect.
1. LB Courtney Upshaw: Alabama (6-2, 263)
I like him as a 34 outside backer who can play on the strong side, take on linemen at the point and also rush the passer. He's at his best attacking downhill, using his strong hands to disengage and always is around the football. Looks like a year one starter to me at the next level with scheme versatility and impact potential.
2. DE Melvin Ingram: South Carolina (6-2, 271)
A shorter, compact defender with a long set of arms, an explosive pop into contact and knows how to get after the quarterback in a number of ways. Plays fast in tight quarters and possesses an impressive pass-rushing repertoire.
3. NT Josh Chapman: Alabama (6-1, 310)
Has the making of a starting caliber nose at the next level in either a 3-4 or 4-3 front. Can consistently anchor on contact, is long armed and tough to move off the football. Also, is a better pass rusher than given credit for.
4. DE Jake Bequette: Arkansas (6-5, 271)
Not a special athlete, more of a savvy power player, but works hard pushing the pocket, has a great motor and can play the run. A rotational guy early on who has the ability to earn a starting role as a 43 overachieving DE at the next level. Potentially can play on either side, but more of a base end.
5. DL Malik Jackson: Tennessee (6-5, 270)
A great looking athlete. Has some real work to do from a technique standpoint and is playing out of position at Tennessee. However, has a lot of upside as a DE both in a 43 and 34 front and looks like a really intriguing defensive lineman at this stage with a good bit up upside long term.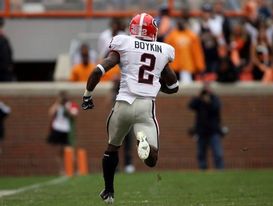 ICON
Boykin looks more like a slot guy.
6. CB Brandon Boykin: Georgia (5-10, 183)
An undersized athlete who has some toughness, but has not yet focused on the nuances of the position. Possesses a natural feel, but needs to add some girth and clean up his technique before he's considered anything more than a sub package nickel guy in my book.
7. SS Brandon Taylor: LSU (6-0, 195)
I like him. He tackles well in the box and in space, displays some natural coverage ability and looks capable of maturing into a potential starting caliber safety in the NFL However, that's all based on him coming back 100% healthy from his broken foot.
8. ILB Chris Marve: Vanderbilt (6-0, 235)
He's a natural leader, plays with a passion for the game and can win in both the run and pass game. His size is the one negative to his game, but reminds me some of 2011 draft pick Brian Rolle. If given an opportunity in a cover two type scheme, the guy has a chance to play early and eventually start.
9. SS Winston Guy Jr.: Kentucky (6-1, 210)
Still has some upside at the position, as he can tackle, displays solid range in space and above-average instincts in all areas of the game. Should be a heck of a special teams player early and looks like a potential starter down the line in the league.
10. CB Casey Hayward: Vanderbilt (6-0, 185)
A smart, productive corner who can make plays on the football. Doesn't have quite the ball skills his stats would leave you to believe and I don't think he's a guy who can consistently hold up in man on the outside in the NFL. But, could get a chance to start down the line in a zone scheme only, where he doesn't have to consistently turn and run.
Follow me on twitter: @WesBunting