August 08, 2011 -
Barry Dorey
Top-10 SEC senior prospects: Offense
A preseason look at the top senior prospects the SEC has to offer on the offensive side of the ball.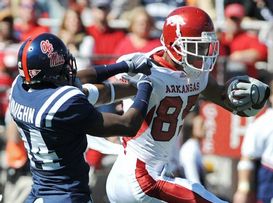 Childs is an NFL ready pass catcher.
1. WR Greg Childs: Arkansas (6-3, 217)
He knows what he is and plays to his strengths. Looks like a big, coordinated possession type receiver at the next level who can win in the three-step game and create some big plays for a team in jump ball situations as well.
2. C Ben Jones: Georgia (6-3, 316)
I think he would be better suited to play guard at the next level because of his struggles to hold his own inside when asked to quickly snap, step and get a push in the run game. However, is a coordinated athlete on the move, can mirror through contact and looks like a dirty starter. But, isn't the type of top tier center prospect many are making him out to be at this stage.
3. OG Cordy Glenn: Georgia (6-5, 348)
A massive guard prospect who struggles with leverage in the run game. But can keep the pocket clean inside in pass protection because of his size/strength and natural athleticism. Moves well for his size and looks like a potential starter inside for a team who values bigger guard prospects.
4. RB Jeff Demps: Florida (5-8, 190)
If he's committed to football over track, the guy can be a dynamic sub package option for an offense in the NFL. A big play threat who can create miss-matches in the pass game and hit the homerun when you get him in space.
5. WR Marquis Maze: Alabama (5-10, 182)
There's a place in the NFL for this guy because of his straight-line speed and ability to create after the catch. Adds some punt return ability as well and looks like sub package receiver who can run the deep crossers and create big plays when his number is called.
6. OT Brandon Mosley: Auburn (6-6, 306)
A tough kid who plays hard, likes to finish and understands angles in the pass game. Has some upside coming from a JUCO program and as of now looks like a roster guy in year one who could fight for playing time down the line. Reminds me some of former UVA OT Will Barker.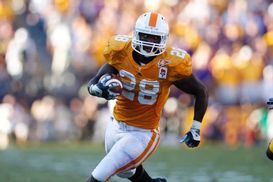 ICONPoole should be able to carve out a niche in a running back rotation.
7. RB Tauren Poole: Tennessee (5-10, 210)
A thick, strong back who runs hard and displays natural one-cut ability. Runs a bit high and isn't overly fluid making defenders miss. But can break tackles, play on third down and looks like a solid contributing NFL back.
8. WR Jarius Wright: Arkansas (5-10, 180)
A coordinated slot guy who is sharp as a route runner, tough over the middle and knows how to get open vs. man and zone. Struggles vs. press and is an inside player only at the next level, but has the skill set to make a roster and carve out a niche for himself.
9. WR Joe Adams: Arkansas (5-11, 190)
An explosive athlete who can go get the football down the field and has some savvy to his game setting up routes. However, is inconsistent catching the football and as a route runner. Nevertheless, does enough well to make a roster and could see playing time both lined-up inside and out. An ideal fit for a team like Philadelphia who love to run those deep crossers.
10. TE Deangelo Peterson: LSU (6-4, 243)
An athletic kid who can run and get down the seam. However, is raw in all areas of the game and doesn't seem to have put much work into his trade. Nevertheless, physically the guy is worth a shot because of the immense upside.
Follow me on twitter: @WesBunting